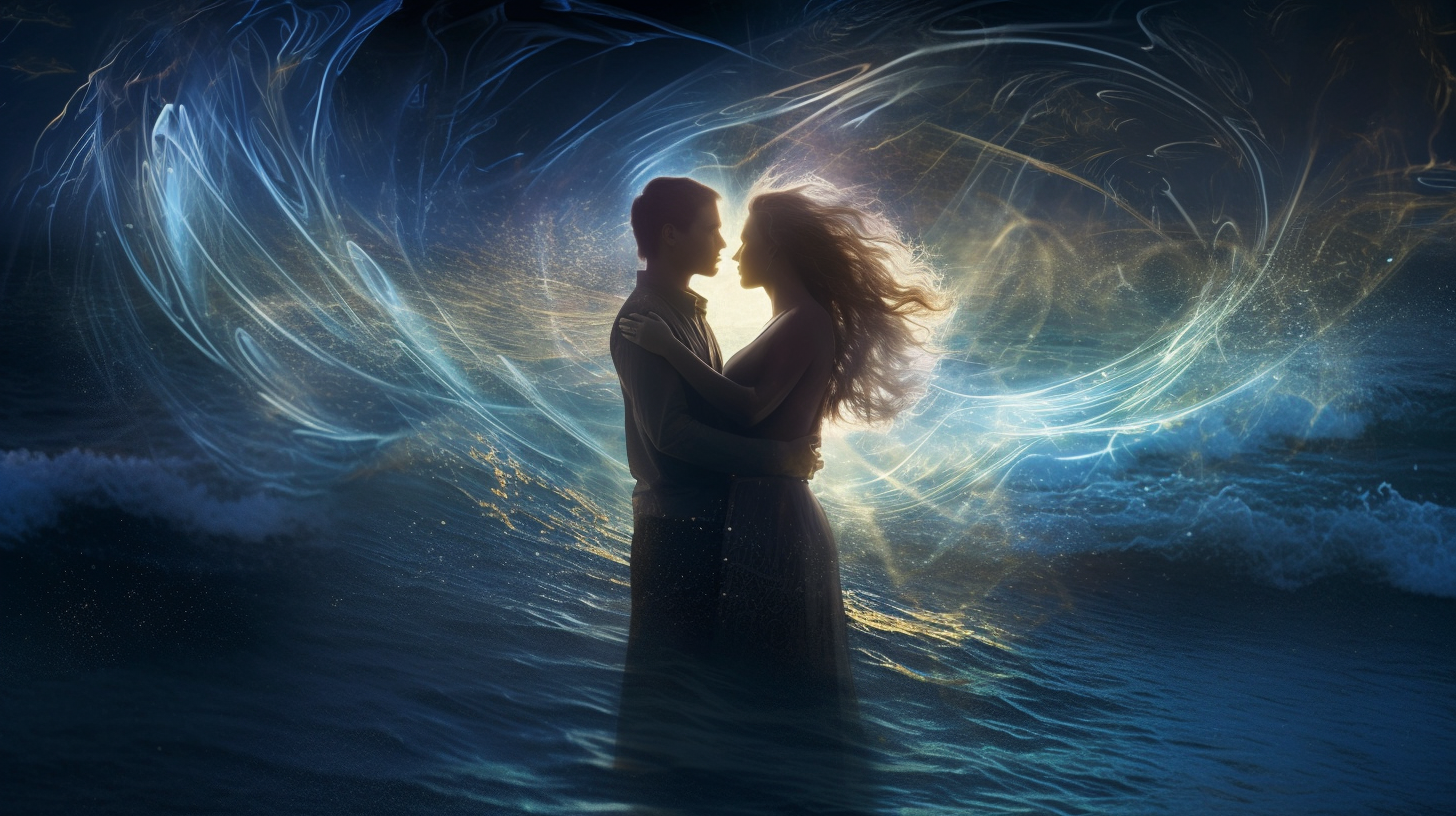 13 Apr

⚡ A Higher Frequency In Love | Weekend Love Reading | 4/14 – 4/16

The energy this weekend is helping you connect with your desires, self-worth and personal value, so you can heal your heart from past hurts attract the love you deserve.

Galena's message for you this weekend will give you personalized insight into your current romantic situation and the next steps to take. Pick a card and get your personal love message now!

P.S. Which card did you choose and what did it have to say about your love life? Leave a comment below and let Galena know!

Hi, beautiful people here at Cosmic Updates. It's Galena the Mystic, your intuitive tarot reader. And I'm back again with another Weekend Love Reading for the weekend of April 14 through April 16.

Thank you for all your lovely comments. Thank you for sharing your stories with me and with one another.

I really feel called this week to remind you all of how precious your energy is, how precious you are, how worthy of protection you are. I feel like as a group, we're kind of all raising our vibrations together. And beginning to just think really critically.

Saturn in Pisces definitely can have this effect on us, where we're maturing, spiritually maturing, and our romantic relationships and the pathway towards our dreams, practical actions that we can take towards our dreams are becoming clearer.

So with that, I really want to share with you all that your energy is precious. And as we develop higher vibrations together, and as we start manifesting more… beautiful, healthier, sweeter sort of manifestation, such as our relationships and our careers and all areas of our lives, our personal health and wellness… there are always going to be bugs that are attracted to your light, right. And so it's really important that as we attract, we bring things into our lives with our good energy.

We are aware of the things that we can attract sometimes that are not necessarily feeding into our light, but are actually taking away from that light. I just want to encourage you to practice discernment and to protect yourself.

And I know some of you are working on healthier boundaries with your partner. So I want to encourage you to do that as well. And I just want to say keep it up, keep going. You are also very valuable. So don't forget it and make sure that that value reflects in the actions you take in your love life.

Okay, with that being said, let's get our weekend love reading for April 14 through April 16.

All right, my loves, I have three different piles for you, starting with smoky quartz, pile number two with our tiger's eye, and pile number three with our tektite.

So go ahead and take a moment, use your intuition to feel into which crystal's resonating with you. And if you are not sure exactly which path to choose, you can go ahead and watch all the videos, claiming the messages that resonate with you and feel authentic, affirming, and helpful. Pause the video if you need more time to decide. And then fast forward to the section with your crystal and I'll see you in your readings.

Group One – Smoky Quartz
Okay, pile one. Thank you so much for being here. You chose this smoky obsidian, which is all about releasing baggage, letting go of old karmic cycles, and essentially just helping you move forward from trauma and any memories of the past that might be holding you back.

So let's go ahead and see your overarching energy. I thought we'd do it with an Oracle Card this time just so that we can keep the tarot portion for all of the juicy details of your love life this weekend.

And for your overarching energy we have Make Friends. Friendship is the alchemy of success. So this weekend, you could be encouraged to go out and make new friends. You could be networking a lot, socializing a lot. And for some reason, this is the advice that you have for your love life. So maybe you're meeting someone special this weekend.

Let's go ahead and get into your tarot and also be sharing more intuitive messages as your reading goes along. So what does my pile one need to know about their love life this weekend in addition to making friends? How is making friends going to help them with their love life this weekend?

Okay, we have two cards to start off with. And that is the Ten of Cups reversed, Five of Cups reversed. I'm gonna get two more for us. Okay, one more, Death reversed. And we have the Ace of Pentacles reversed. Okay, wow.

So I want to point out that you got all reversals, and particularly I'm hearing the same crying over spilled milk. And I want to be very clear, this is not Spirit dismissing or minimizing some of the hardship you've been through in love, or trying to minimize the frustration that you've been through at all. I just feel like maybe you're looking to the past a little bit more and your advice this weekend is to go out and make friends.

And I'm kind of starting to see why because here in your tarot cards, it looks like, one, we have a lot of reversals, and we even have Death reversed. And this makes me think of looking back to the past and being a little bit stuck in the past. Ace of Pentacles is a new beginning, a new beginning in a lot of different ways. This could be a new career, a new social circle, a new area that you live in, so you could be moving house or something like that. But just overall a new beginning. And even if you're not physically moving anywhere or your not physically changing jobs or anything like that, the Ace of Pentacles, to me, is a new beginning that feels really solid and stable. And so this stability could be part of your mental health, like you are meant to feel more mentally stable, you're meant to feel more solid and who you are, what you believe in your values, where you're going after. And overall, the Ace of Pentacles shows me that there's a potential here for a new beginning in which the floor feels more solid beneath you.

However, in this reversal, I'm seeing that you haven't accessed that quite yet. And the reason why is because we have here you kind of resisting some sort of transformation with this, with this reversal here. Death is a card that's not so much about physical death, it's more so about transformation and spiritual and physical transformation. So I can see here that your circumstances were meant to shape you into a new person. You are really meant to outgrow certain circumstances. You're really meant to bloom and blossom and just shine in a completely different way.

So I can really see here that the something that you lost, something that was spilt, for example, something that you lost, it actually was meant to help you transform into a completely new person and access new opportunities. And, overall, just be able to let go of things, right.

We talked about this smoky obsidian. So something here is really meant to be released and let go of once and for all.

So let's go ahead and move to these two. I don't know why it felt like reading right to left, but it is what it is. So let's go ahead and see this Five of Cups and Ten of Cups reversed. Again, I feel like that's where I'm getting this message of crying over spilled milk. It's almost like Spirit's saying, "Hey, like, we're glad, we're glad that that person left your life."

I'm also hearing that you dodged a bullet, in a way, and that's not necessarily because the other person was horrible. I mean, it's gonna be different for all of you. But more so you dodged a bullet because that relationship dynamic wouldn't have been your Happily Ever After that you actually are meant to manifest and you're actually meant to work on. But as long as you think that your Happily Ever After is in the past, or that you failed your Happily Ever After, that you missed the opportunity for your Happily Ever After, as long as you believe that you will never learn what your Happily Ever After is actually supposed to look like.

So, this weekend, I'm really feeling like, if you reject opportunities to go out and meet new people, if you reject opportunities to go out and express yourself a little bit more, you I really do feel like you might end up missing some opportunities.

And luckily for us, the universe is so graceful and so gracious that they'll bring opportunities back around so that we can always access what's meant for us. So it's not that you're going to miss opportunities in a way that's detrimental to you, or in a way that completely throws your Happily Ever After in the trash. And I don't feel like any of you were at that point. But what I do feel is that it will prolong this period in which you're resisting change.

So again, go on a date, even if it's a bad date, and you're still hung up on this old person, get moving, get into a new situation. And I think that a lot of you, it's just time to shine and kind of figure out who you are. Again, figure out who you actually are meant to be because you are not meant to be this person who just clings on to old, an old, failed connection or something you perceived as a failure. That's not what your existence is meant to be. You're not just meant to perceive something as a failure, cling on to it, resist moving forward, and stay stuck in the past.

You're actually meant to discover yourself and discover new things about yourself. And I'm remembering something that I heard, I believe from a friend. So if you're that friend, and you happen to see this, go ahead and comment and say, "That was me!" But a friend of mine posted about the Death card, and they said that death… what's left after a death moment, when you feel like all is lost, what is left of you after that loss is what is permanent, and is what is sustainable, and what's actually going to carry you forward to the next chapter, or something to that effect. And I'm really thinking of that now.

So don't think that all is lost, actually, with this loss or this ending that occurred in which you thought it was your Happily Ever After. But actually, it didn't turn out to be that there's something that's left of you, some traits of yourself, or some desires you hold that you're meant to follow into your next chapter. So not all is lost.

This was actually an amazing learning experience. And there are things that you are meant to have learned from this and you're meant to put them to good use.

So, pile one, embrace new beginnings this weekend, embrace offers to go out, embrace offers of new friendship, and just really claim that new connections are possible for you. I think maybe some of you have forgotten that there's really plenty of fish in the sea. And that when one of our manifestations fails, it's not so that we can give up on our manifestation. It's so that we can take that failure, quote unquote, "failure" as data and use it to inform us for our next manifestation. And also so that we can show up differently, learning how to show up differently with this Death card, okay. Be different.

And I think that you'll see that you've… when you actually put yourself out there and start moving forward, you'll see that this experience has the ability to help you shape shift and just change into someone you don't even recognize in a very good way, in a very positive way.

I feel like your new friends are going to love this. Seeing friends could be helpful for you to, like, remember who you are. I feel like a lot of you have just forgotten who you are overall. And you're meant to remember that this weekend. So go hang out with your friends, make new friends, be social. Remember how capable you are of being social, flirt. If you haven't flirted in a long time, it's time to get back out there and practice flirting. You might actually really surprise yourself, okay.

All right, pile one. These are all the messages I have for you this week. But I'm sending you so much love and care as you navigate this, sending you so much compassion as well. Take care of yourself, stay healthy and safe. And I will see you next week. Okay, bye.

Group Two – Tiger's Eye
Hello, pile two. Thanks so much for being here. You chose this Tiger's eye, which is a crystal of motivation and speeding things up. It also helps protect you as you're traveling or moving fast for any reason.

So let's go ahead and see what your overarching energy is. We have actually a Sufi Wisdom Oracle Card this week. And so we have A Balanced Life – Love seeks your well being. Yes, so this is making me think of centering, stability, making sure that you are really emitting the vibration of love that you want to attract. And it's also making me think of how we attract healthy partners when we ourselves are healthy. So if you are a very unhealthy person, if you're struggling with insecurities, if you're not taking good care of yourself, if you don't love yourself, it's very hard to attract someone who does, right.

And, also, if we manifest partners from a place of insecurity or toxicity, we are likely to manifest partners or attract partners who play into those insecurities or who tolerate those insecurities. And so this is all about setting standards for yourself, standards for your own life that will then go on to reflect the standards of those who want to be in a relationship or those who are willing to tolerate.

So, for example, if you tolerate toxic communication in your friendships, or in your own mind, even then you're likely to tolerate toxic communication from a new person that you try to align with or from a partner that you try to align with romantically. So, yes, set standards for yourself. This is what you're focusing on this weekend.

Let's go ahead and get into your tarot cards. We can get specific advice, possible events that will happen this weekend for you impacting your love life. But I see here you're focusing on centering your energy as well.

We have here the Eight of Cups reversed, the Fool reversed. Let's go ahead and get a couple of more. My pile two needs to know about their love life this weekend. Okay, we have the Lovers reversed. Wow, yeah, so this weekend is really about choosing yourself.

Let's go ahead and get a couple more. Or just one more. Okay, we have the Two of Pentacles reversed, okay. And I love that this card comes out with Balanced Life because it's very much about juggling something and balancing something, weighing your options. I also love the way that this person on this card, they look very content and whole and complete within themselves. But they also look like they're reflective, like they're reflecting on themselves and checking in with themselves to see, "How does that make me feel?"

So maybe you're asking yourself how certain things make you feel, and making sure that things are in alignment with you before you act on them. So I'm actually going to go ahead and use your crystal to cover this up. There we go. So that they don't get in trouble.

So with this, I feel like what you're really doing is, is you're checking in with yourself. And as you encounter… Oh, actually you need to cover this up too. So we're going to borrow pile one's crystal, maybe some of you resonate with pile one as well. Or maybe some of you came from pile number one. So if that's the case, hello, but we're using your crystal to cover up these body parts.

So, with this, I feel like part what is blocking your new beginning is that there are certain things that you think you walked away from with this Eight of Cups. It's like certain things you think you walked away from, you're actually taking the energy of those things with you, and you're manifesting them again.

You don't have to accept those things when they appear in your reality. Of course, we have free will, and we can choose to keep growing and evolving beyond it. But right now, I feel like you're at a stage in which you may not be aware of how your energy is actually influencing the kinds of connections you attract.

So for example, if you're the type of person who says, oh, like, I always end up on the worst dates with people or I always attract the worst guys, you're really meant to check in with yourself to see how you're bringing old dynamics and old standards from past relationships into your dating life today. So I feel like that's what's blocking you from this new beginning. I also feel like you're going to be in a position this weekend where you make a lot of choices.

We have the Two of Pentacles, which like I said, is about going back and forth. The Lovers as well is about decisions. But with this reversal, I feel like some of the decisions have to do with you choosing yourself, you're choosing yourself. And I feel that if you don't take care of your own well-being and show yourself love and believe that you're worthy of love, and love yourself, it's really, really hard. As cliche as it sounds, it really is so hard to manifest love that loves you externally. And it's hard to even recognize that if it were to show up.

And with this Eight of Cups reversed, you're being asked to kind of look back at things you've maybe walked away from physically, but haven't walked away from emotionally. So if you maybe say, for example, you were cheated on at one point, or say you dealt with a lot of betrayal trauma, which is a very real type of trauma, does create like PTSD, and it creates a fight-or-flight response, activated when we think we're being betrayed again. You might feel like a bear is always chasing you, like you're gonna get cheated on. And so you walked away physically from a relationship in which you were getting betrayed, financially or emotionally, or even physically being betrayed, you walked away from that physically.

But then in your next connections, you just live in this fear that you're going to be cheated on. And so you're a little hyper-vigilant or a little controlling, or when you start dating someone and you like them again, you expect them to go above and beyond to prove themselves to you, like, prove that they are faithful. And you don't realize you're actually undermining yourself. And instead of just receiving love that can feel good, you're actually worrying a lot of the time and giving your power to this other person, because you're so afraid of them up-ending your life or up-ending your version of reality.

It's a little bit more nuanced than self-sabotage. You're hoping that they love you the way that you want to be loved. And so you're giving them… almost giving them instructions on how to love you, when really you should be providing that love to yourself so that you can actually approach your relationships from a place of security. Does that make sense? Please comment down below and let me know if that makes sense.

But that is the message I'm getting for you, pile two, and for your love life this weekend. This is what you're being asked to focus on. This is what you're being asked to kind of assess. And you're meant to re-evaluate how you're showing up in some of your connections and ask, "Is this balanced?" Another way of interpreting this is, "Is this reciprocal? Is this relationship reciprocal? Am I asking for and demanding more than this other person is giving me because they're not showing up in a way that's useful to me? Am I demanding so much of them because I'm used to not getting my needs met? And I'm actually in this connection, because it's familiar in some way?"

Maybe because of past connections, you're actually tolerating new connections in which you're getting a lot less than you deserve. So it's not just… I'm not just saying that you're being demanding and asking for too much, or asking for more than you deserve. It's not that you don't deserve it. It's more so that you might be demanding it from people who just don't have it to give, don't want to give it. And so those are connections you should definitely be releasing, especially as we have the Full Moon in Libra this month. It's just a really good time to release anything that's imbalanced or reciprocal.

And understand that you can provide everything you need to yourself. You can provide everything you need to yourself. And don't wait on anybody to save you. Don't wait on anybody to take care of you. Oh, I'm hearing, "I Could Buy Myself Flowers," by Miley Cyrus that song "Flowers."

So don't wait on anybody to give you something outside of yourself when you have everything you need is going to help you show up in your connections and in your dating life in a much more secure, attractive way. So those are all the messages I have for you, pile two.

Thank you so much for spending this time with me. If you liked this video, go ahead and comment below and let me know what you liked about it. I'm sending you so much love and compassion. And I'll see you in the next reading. Okay, bye.

Group Three – Tektite
Hello, hello pile three. Thanks so much for being here. You chose this Tektite, which is a really interesting crystal. It can really help activate psychic gifts and awaken you to past life memories and help you access your Akashic records and all kinds of really powerful stuff like that. So if you're interested in getting better at divination, or understanding past life connections, past life memories, past life soulmates, karmic cycles, things like that, this could be a really good stone for you. It's also meant to help ground you as you do that, which is really, really important.

So let's go ahead and see your overarching energy, which is from the Sufi Wisdom Oracle Deck. This says Living In The Moment – What you are looking for is with you. What you were looking for is with you. That's a really wonderful message for those of you who are looking for love. So what you're looking for is with you. I feel like this is a really powerful message for those of you who are coming into union.

And, actually, I don't know if you are seeing this, or if this is just the way my brain is seeing this, let me know in the comments below, but this actually looks like two people maybe kissing or embracing each other. So for some of you, you could actually be called to enjoy a relationship that you are now aligning with and just live in the moment and enjoy it a little bit more.

Sometimes when we are in connections for the first time or in new relationships that feel really good, we can sometimes spend a lot of time with our minds elsewhere, worrying about the future, worrying about the past, worrying about the past repeating, or worrying about how things might go wrong. And sometimes that actually detaches us from the enjoyment of new connections.

For those of you who are not in a connection at this time, I'm seeing another message here in this card, which is that the love that you're seeking is with you. This is divine love. It's definitely spiritual love. So you could be connecting to spirit guides or deities, or maybe even like Father God, any sort of energy that helps you feel comforted from the spiritual realms and that kind of love feeling, that love can actually help you manifest more earthly love and love that's more in the form of another human, if that makes sense. So, very interesting, powerful energy with this group.

Let's go ahead and see what love life advice we have for you for this weekend for my pile threes, so yes, and also, there's a big emphasis on self-love. I feel like with you guys, there's a lot of self-love energy going on.

Okay, we have the Knight of Wands reversed. Let's go ahead and see what else we have here. We have the Eight of Cups. So now the Seven of Cups reversed. What else does my pile three need to know? The Six of Swords reversed. Let's get one more. Let's get one more. Okay, oh, well, we have the World, yes. And on top of the deck, we have the Queen of Wands, how to show that to you as well. So, oops, sorry, I'm kind of a mess.

Let's go ahead and take these. So I feel like for a lot of you, you actually are diving into past life connections. The Seven of Cups makes me think of the dream world and just fantasy realms, astral realms, those kinds of things. And with this reversal, I could definitely see you using the astral realms and using your dreamworld to dive into the past.

So, like I said, that message came up with the tektite. We also have the Knight of Wands reversed. So there could have been a more flaky impulsive or immature energy we were dealing with. This could have even been you if it's not someone else's, could have been you. But it could definitely be someone else.

We have the Queen of Wands here now. And this is a huge "glow up," in my opinion, because we have one of the younger, more naive, just beginning sort of court cards. And then we have the queen who's very mature, very empowered, very creative, and really able to make the most of her situation.

And so we see you kind of taking power into your own hands or taking matters into your own hands in some way. So you're feeling very empowered. And this could definitely be coming from a spiritual place as well with all this Akashic Record sort of energy we're getting here.

But we have the World, so this is a card of feeling whole and complete on your own. Let me cover this as I talk about it. Just so I don't get flagged or anything. But with the world, this is an energy of feeling whole and complete, bringing cycles to completion as well. So you could be looking to the past and feeling like, "Wow, look at how far I've come. Look at how much I've been through," and really allow that and allow the lessons from those moments to inform your experience as you open a new chapter.

I feel like a lot of you are opening a new chapter, closing all chapters with a lot of fulfillment and a feeling of like, "Okay, I know what I need to do next." Let's go ahead and put this on here, just in case.

And then we have here the Six of Swords reversed. So this makes me think of looking to the past as well. It also makes me think that some of you who want this, this is definitely a message only for those of you who would be open to this and who are open, feeling confident, comfortable on their own, and would be open to this happening, but this weekend someone from your past could actually be coming back to you. You could be dreaming about them a lot.

And this, this is more of a situation that you might have left from a place of empowerment. So if you cut someone off, but then you kind of grew and matured in different ways, and you decided, okay, like, let's go on our own journeys, so that we can grow in our own unique ways and then maybe we'll come back together, this could be the weekend where you finally decide like, okay, let's come back together, let me actually open communication, or you're feeling empowered, you're feeling strong to do that.

If you're not feeling empowered and strong when you think about someone from the past. And this is not your… that's not your message, but I just wanted to share it for those of you who wouldn't be resonating with that.

Another thing that I'm seeing for you guys, my pile of threes, is that you are more comfortable with viewing the past without this attachment to it. So some of you could have been in this energy of, like, I really needed the past to come back, or I really need my, my ex boyfriend or my ex husband or my ex partner, my ex girlfriend, ex wife, I really need them to come back. And that is not the case for this group this weekend. You're not feeling like you're needy. You're not feeling like you need anybody in order to feel secure. You're actually feeling really good. And when you think about the past, and when you dive into the past, it's actually just to inform you and empower you moving forward. And if you feel empowered, reconnecting with someone in the past, and you're doing that, and if you feel empowered moving forward, then you don't feel any guilt or any remorse about that.

So this pile, actually, you guys feel really clear of baggage. You feel really positive. You feel like focusing on your spiritual journey or your own self-love or your own wellness, is really where it's at right now.

And it's making you extremely attractive. Queen of Wands is a very attractive energy, and so is the World. The World is a very attractive energy, because people who feel fulfilled on their own will attract others to them without even trying because they don't need those other people. But other people really enjoy being around people who are self-assured and confident and comfortable on their own.

So, yeah, there's almost this energy of solitude. I could see a lot of you being in a place where you're finally able to practice interdependence with others. It's something that you maybe worked for really hard, to practice interdependence. So those of you who are connecting with someone and in a new relationship, I feel like it's a very healthy connection that you should just really enjoy. Right now, enjoy being yourself, enjoy this other person, and enjoy the different roles you play with each other without this pressure that sometimes this idea of need, or this idea of control can create.

And for those of you who are single, you're really empowered this weekend, and you're dating from a place of like, "Okay, well, I'm going to keep my standards high, because I don't need to settle for anything. I actually can meet all my own needs. I feel really comfortable. And so I'm just going to enjoy this date for what it is. And I'm not going to actually project a bunch of needs or project an entire future onto this other person," if that makes sense.

So pile three, that's pretty exciting. I think you're gonna have a lot of fun this weekend. And I think you're going to just feel this sense of fulfillment. So I'm excited to hear about that in the comments.

And thank you so much for those of you who have been commenting. It means so much to me. Thank you so much for spending this time with me. I hope that you're safe and healthy this weekend. And I'll see you in the next reading. Okay, bye.