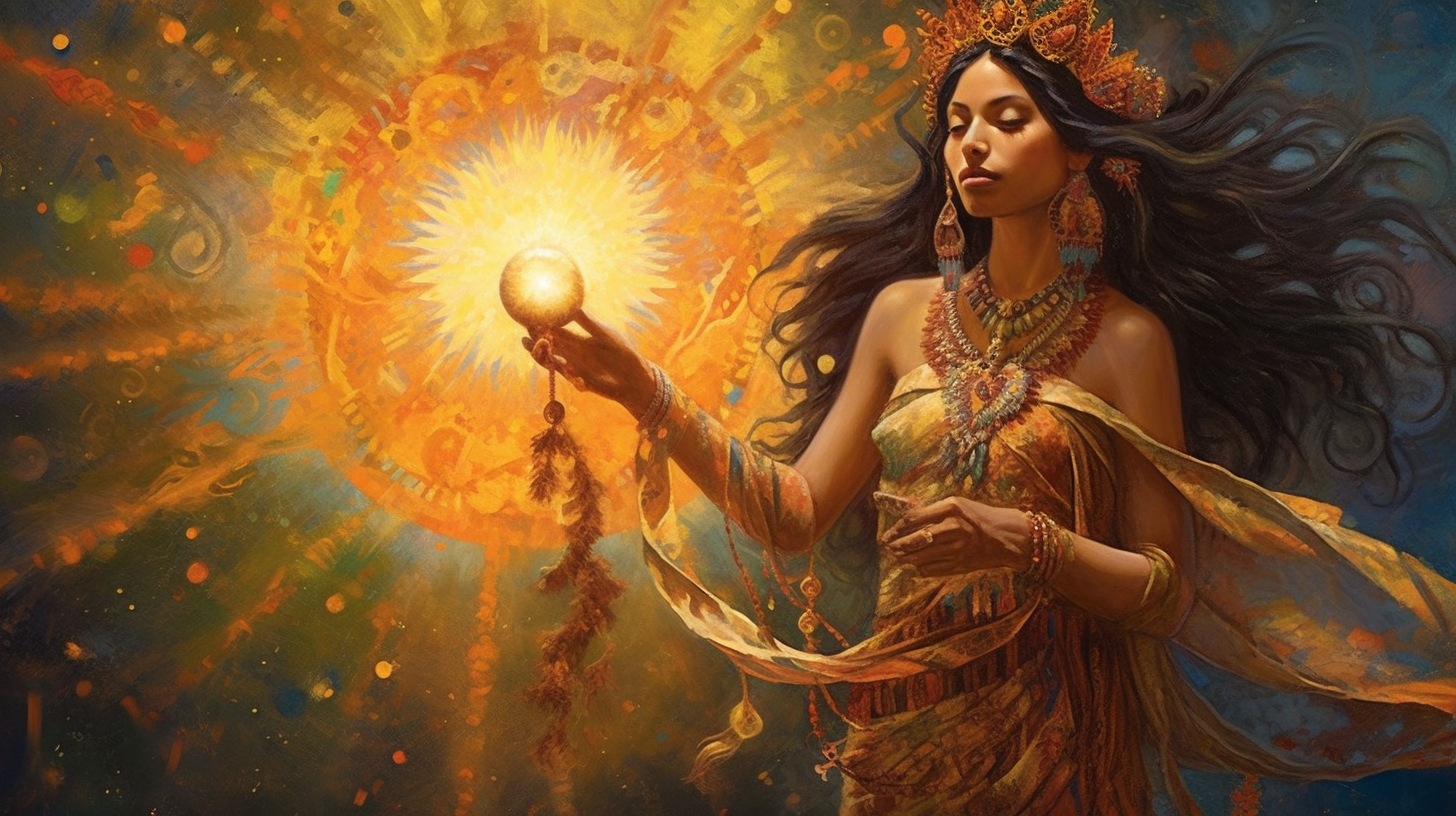 10 Aug

Embrace The Magic | Weekend Tarot Love Reading | 8/4 – 8/6

Sometimes the line between love and fantasy can be hard to see…

But this weekend, Galena the Mystic says the truth of your romantic situation could become clearer and easier to navigate.

She's here to help you embrace the magic entering your life right now, while shining light on misunderstandings that could be holding you back.

P.S. Is something magical happening in your love life right now? Have you recently noticed something new about your relationships? Leave a comment below and let Galena know!

Hello, beautiful souls here at Cosmic Updates. It's your intuitive tarot reader, Galena the Mystic, and I'm back with another weekend, love tarot reading.

The High Priestess already wants to jump out, so let's get a few clarifiers to see what she's talking about. But this is going to be your love reading for the weekend of August 11th through August 13th.

I want to say thank you so, so much to those of you who have been commenting. It means a lot for me to be able to connect with you. I'm gasping because we have the two of cuffs. Okay? Wow. So it means a lot for me to be able to connect with you.

It means a lot for me to hear your stories about how you're healing, how you're wading through the cosmic energies, and how you're learning to keep your heart open, which I can see here with The High Priestess and the Two of Cups, there can be a lot of nuance to your situation right now, as you can see The High Priestess' distance between a black and a white pillar, and this really represents her comfort with the in-between.

And there's just, there could have been a period of black and white thinking you might be an all or nothing type of person in relationships, but you're kind of learning how to go with the flow a little bit better, and understanding that not everything is so black and white. This could even be in terms of how you view other people. So maybe you have a tendency to either completely idolize someone or demonize someone.

I'm also hearing limerence. So for those of you who don't know what limerence is, limerence is this phenomena that occurs when we sometimes latch onto a crush or obsess over somebody, and it's in order to kind of comfort ourselves and self-soothe, self-regulate when we don't feel that we have access to genuine connection. So maybe that's something that you are growing out of. Maybe you idolized somebody at one point and then realized that that wasn't quite the truth.

I'm not sure why I'm picking up on that. But there's something here about you no longer romanticizing someone. Well, I don't want to say I don't know why, because that's why you're no longer completely putting someone on a pedestal, but you're also not villainizing them either. Wow. And it's allowing you to connect more with the Two of Cups here.

This could be an extremely romantic weekend for some of you. The more that you kind of understand your own energetic boundaries, the more you understand the energy you are bringing to the table and what your own vibration feels like, the more you're able to connect with others in a way that feels genuine, in a way that feels authentic and in a way that feels fulfilling. So we're off to a great start. Let's see what else is coming up for this weekend.

There's a lot of self-love as well, meeting people where you are at, we have the Two of Swords, Nine of Wands reversed. So there's this fear, this debilitating fear that you're trying to kind of put to rest.

I feel like the more reserved you are, some of you are just extremely unwilling to open up to others, or you are just very afraid with the Two of Swords, it's almost like she's blocking her heart chakra. But then the fact that we're confronting the weekend with this energy shows that this is the energy that we're moving out of.

You can see on the Nine of Wands how this person is so reserved and really fearful because of all they've gone through. There's always a weariness that comes with the nine of wands, and in the reversal, I'm interpreting this as a certain blockage, and this is because you're trying to protect your heart chakra, and this is the ego.

This is the higher self, and this is the ego. So I think that little you and big you like your higher self and your lower self are kind of in communication with each other in a way that's new, in a way that is really telling of this level of consciousness that you've achieved.

Okay? So that's really, really exciting stuff. I just think that with this Two of Swords and the Nine of Wands reversed, there's hesitancy that you kind of slip in and out of spirit. What should we know about love this weekend? These energies that we're navigating? Okay, we have depth. So there's a transformation that's occurring here, a huge, huge, huge transformation for the betterment of your relationships as a whole. Let's get clarification. Clarification on this Death card.

Wow. Oh my gosh. We have Death, and the 10 of Cups. This is you finally accepting that things can be pleasurable for you. Yes, things can be this good. I think that some of you are so used to damage being done to you or so used to manifesting lessons that were really difficult lessons to learn that when it comes to pleasure, the joys of life, you don't even believe this for yourself.

You almost sometimes see it as too good to be true or a mirage, or you are not trusting your own self. It's like you'd almost rather not look at the blessing with this. It's giving me this feeling of almost having your head in the sand or hiding your head under the covers, like you're afraid to look at your blessing here with a 10 of Cups. So for a lot of you, this is a new chapter of romance completely opening up for you with the Death card.

This is your personal transformation. Understand that it's all about you. It's about you and your journey. It's not so much about this other person, not that you aren't conscientious of other people or not that you aren't taking your partner into consideration, but this is your journey. And when you talk to spirit about it, when you talk to the universe about the love life you'd like to have, understand that they're going to respond with the lessons you need to learn in order to embody your 10 of Cups.

And a lot of the time, the 10 of Cups we manifest isn't even something that we could have imagined for ourselves or could have spoken into the universe because the 10 of Cups spirit works with us by helping us manifest the feelings we need, the experiences and the lessons that we need, which is very esoteric, if that makes sense.

It's definitely giving the nuance of the high priestess. There are subtle things that you're manifesting that are really meant to. I'm hearing open the floodgates. So some of you could be having heart awakenings, heart openings, where you just pour your feelings out, but it's just going to open up a completely different world of view for you here. Wow. Okay. This is powerful energy, and with the higher font on top of the deck, this is you stepping into your higher self. This is you really submitting and surrendering to the wisdom of your spiritual beliefs. A lot of you just believe in the power of love. You believe that your higher self is guiding you. You believe that you deserve lots of love and good things and pleasure and joy, and you believe in the spiritual journey, hopefully towards your soul's liberation. But you believe in these things conceptually.

You're not necessarily embodying them. This is you beginning to embody them and surrendering to that wisdom, even when the small you or the egoic self doesn't want to believe it's saying, okay, I'm scared in this moment. I don't want to look. I don't want to look, but my higher wisdom, the higher fought and the high priestess, beautiful couple, by the way, this pair, I love them together, and my higher wisdom tells me, maybe for some of you, this is a certain religion, maybe this is a certain scripture, maybe this is just a certain affirmation. My higher wisdom tells me to jump anyways. My higher self tells me to keep my heart open and to have compassion for others. My higher self tells me to keep my heart open and forgive and forgive even if the other person isn't sorry, and my higher self tells me to have healthy boundaries and to trust my intuition and to have discernment.

So I'm going to make the moves that are in alignment with that wisdom, even when I'm scared, even when I'm doubting. And that's going to be the difference between manifesting your fears and manifesting the timeline you actually want to exist in. Okay, wow, I love this energy. I'm keeping the font out. Okay, wow. Because we are really, really, really aligning with our higher selves in this timeline, and we're also claiming authority, claiming ownership of our story so that we can be in the driver's seats, that we can be in charge, so that we can say, Hey, this is the direction I want my mind to go in. This is the direction I want my plot to twist in.

Whoa, I love this. We have the Nine of Cups. Oh my gosh. And the Knight of Cups on top of the deck. Some of you are really having such a romantic weekend where, I don't know, some wish is getting fulfilled, some offers being made, and something about you can sense the magnitude of this, something about you or something about the situation. It gives you an inkling of what you're happily ever after could be like. Not that you need to project you're happily ever after onto this opportunity or onto this person who's coming into your life, but you can sense, oh, this is what goodness feels like. This is what my life could be every day. You're going to have a really good day this weekend. This doesn't even have to be romantic. It's almost like you're romanticizing life. I keep wanting to stutter too, so maybe someone's a little nervous talking to you, but I feel that you're going to have a really good day this weekend that shows you like, wow, life can be good.

And this is also me giving you permission or spirit, giving you permission to romanticize your life, your everyday, the small things, the cup of tea you make for yourself. A bath that you take sitting in a garden somewhere, sitting at the beach somewhere, spending time in nature, spending time with friends and just thinking, wow, I'm so lucky for this beautiful day. That's the kind of grace and gratitude that unlocks true love. It's experiencing true love for all that you have and all that surrounds you. So maybe for some of you, this is you actually taking time out to just fix your vibration, saying, "Hey, I need to go sit by the water in this Two of Swords, energy. I need to go. It's making me think of how in, I want to say the Victorian era. I'm not a history person. I'll be honest. Doctors, psychiatrists would actually prescribe that women go to the seaside, right?

I think there's some funny memes about that going around too. But yeah, maybe that's what you need. That's the prescription you need right now, so that you can just fix your vibration and change your surroundings and find something to be grateful for. If you're looking at your surroundings right now and you think there's nothing to be grateful for, change your environment. Go somewhere. Go to a library. Okay?

This seaside could be literally anywhere for you. And so yeah, when you romanticize your life and move forward with an open heart, you're going to run into your 10 of cups and your ability to do that, that's the transformation here. Your ability to just say, wow, I am so lucky for this moment. It's almost something. Oh, I'm hearing Archangel Jophiel, who is the archangel of beauty. The archangel, not only a physical attraction, but beauty as in beautiful thoughts.

She can help make your thoughts more beautiful. So honestly, I'll pray to Archangel Jophiel. I've had experiences with Archangel Jophiel where I was brought to tears by how beautiful everyone looked around me, and so I really, really recommend that if you're struggling with that sort of thing. And so, wow, we have some really powerful energies here. So trust your path. First of all, this says, if you knew you would be supported, what would you do? If you knew you would be supported, what would you do? Comment down below. Okay. The answer to that question, we have break the chain, right? Rewriting the future. This says ancestral patterns, healing, rewriting the future. This is The Hierophant and The High Priestess, and this is your 10 of cups Death card moment.

Your guidance is divinely guided. Wow. So if you knew that this was spirit pushing you towards this person, this people, these experiences, what would you do? How would you treat it? How would you say thank you? On top of the deck, we have Anna, grandmother of Jesus seating the light Laying Foundation's Divine Plan.

That's what I'm saying. This is about legacy something. Here. You're going to have this experience where you're like, wow, this can be the beginning of the rest of my life. Oh, I have chills. Okay. This says Mirror who or what is triggering you. And yeah, this is Two of Swords energy, Nine of Wands reversed. Every time that you're triggered in your relationships, you're going to have the consciousness and the awareness to be like, okay, this is coming from inside.

Actually. It's not that someone's doing something to me. This is triggering me because of my own experiences, because of my own perception and worldview, and therefore I have power over it. I have control over it, and I can choose how I react. So it's going to make your connections a lot more harmonious.

Wow, what a beautiful energy to tap into. Thank you all so much for being here. I'm sending you a big, big energy hug and lots of love and compassion. As always, please comment down below to let me know how this reading resonated with you this week. Oh, and book a private reading with me. I'll see you there, and I love you all so, so much. Okay, bye. Bye.