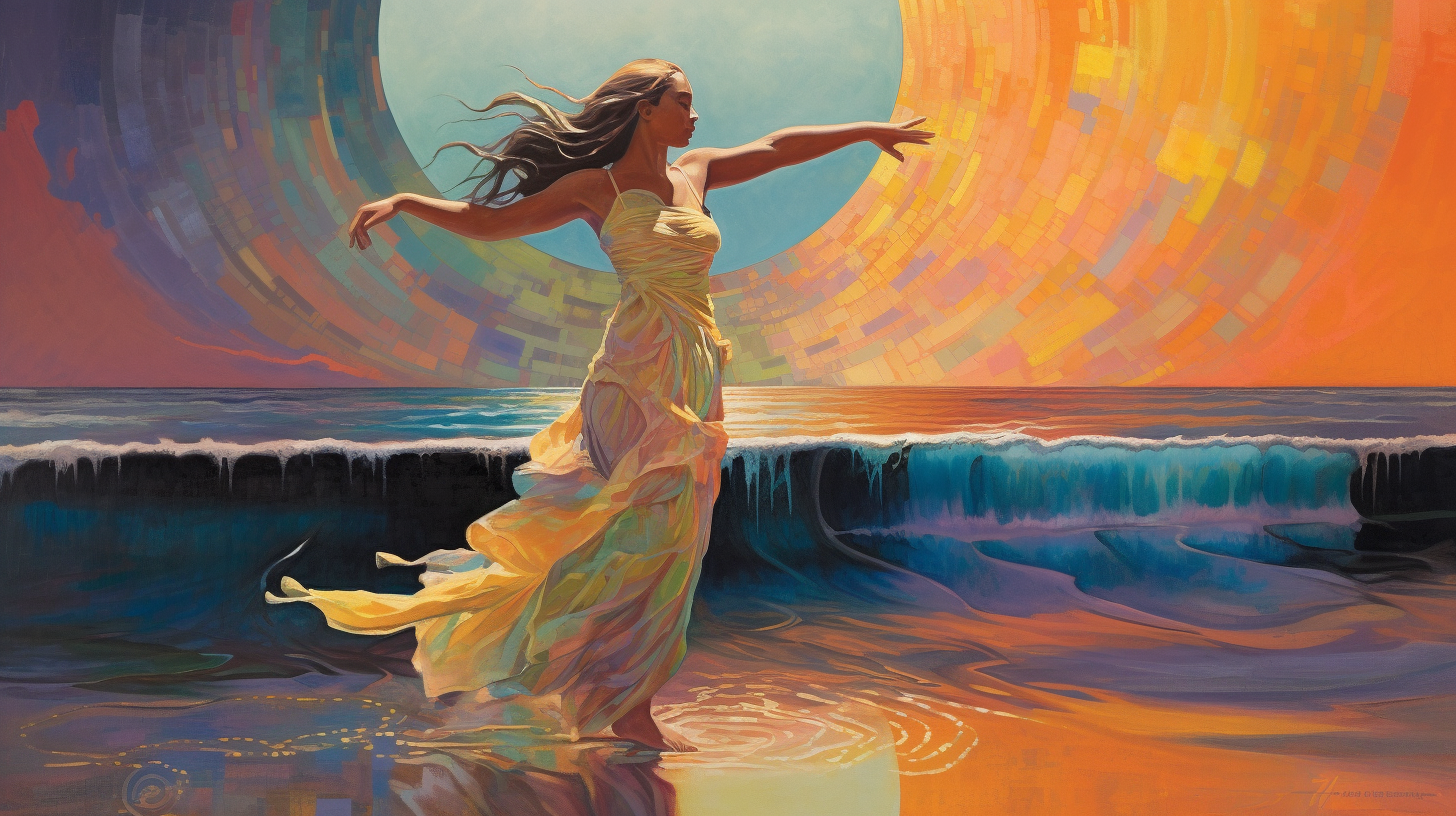 07 Nov

Go With The Flow | New Moon In Scorpio Tarot Reading | 11/13

Is something you really want taking it's own sweet time to manifest?

Sirena Moon says that the upcoming New Moon in Scorpio will give you a much needed boost of momentum to help you manifest your desires more swiftly.

She's here today to help you release stuck energies so you can welcome a fresh surge of inspiration.

P.S. Do you feel like you have been spinning your wheels lately?  Where could you use a fresh outlook? Leave a comment below and let Sirena know!

Hello, beautiful cosmic family, Sirena Moon here. And this week I'm talking about the beautiful New Moon that is happening, November 13th in the sign of Scorpio, and what this energy might mean for you. And, I'm also going to do a group Tarot reading with any messages from Spirit around this New Moon time. So November 13th, we have a New Moon in the sign of Scorpio and Scorpio energy is all about the truth. It's about telling the truth, it's about finding out the truth. It's about investigation, really getting to the heart of the matter and really having deep, meaningful conversations with people. It's about intimacy, true intimacy. So the energy of this time might inspire you to really want to just dig deep and investigate and find out the truth of something, or to not have any more secrets between you and another person or a situation, or to just want to really, really go beyond superficial conversation and beyond superficial thinking and to have some really deep, meaningful interactions with other people. The Scorpion New Moon might reveal a truth to you in some way, something that was previously hidden from you. You might see it and might come into the light in some way, but ultimately, Scorpio energy is very healing. It's very transformative. So the truth will set you free. The truth shall set you free. So when you go into the truth, when you speak your truth, or when you listen to someone else's truth, it ultimately sets you free because you're able to just be real and be authentic. So the kind of energy around this time might be very healing in that way. And as with all New Moon times, it's a really good time to set a new intention or clean out your closet or do something that refreshes your energy in some way and start fresh and new in some way in your life. 

So with that being said, now I'm going to do a group Tarot reading based around this New Moon time. So I'm just tapping into Spirit and around this time, November 13th, this beautiful New Moon. And I'm asking Spirit to give us all a message or anything Spirit would have us know for our highest good, for highest good about the energy of this time. 

Okay. Alright. I'm pulling this card first. Okay. So at this time, you might have been working on something for a really long time, really focused on something, and it's still not coming to fruition. And that could be making you feel really tired. You just want to give up or take a break, and that could be a good thing to just kind of take a break for a while. But not all hope is lost. Anything you put your focus into for long enough, it always leads to something, even if it's not to the thing you thought it was going to be. So for many of you, you might just be feeling a little bit just worn down at this time and just ready for a break of some sort and feeling like, okay, when is my ship going to come in? And for many of you just kind of wondering if everything you've been putting your attention on, your focus on all the work you've been doing, if it's going to manifest, oh wow. And your focus right now is on your heart and it's on love. And for some of you, it's on healing and potentially something that you've been working on for so long that hasn't quite come to fruition. In many ways, it's been a healing journey for you. It's been an experience that has led you to get more in touch with your emotions, your heart, and your joy. So that has been positive, that has been good, and you are focused right now. You want to feel good. You don't want to feel upset about this situation that's not moving forward at this time in the pace you want it to move forward and you want to feel joy. And so for many of you, you're learning that even despite this dream you've been working on kind of taking longer and being stalled out for some reason, you're learning that there are maybe other things that bring you joy at this time that you can focus on. There's something good going on. This could be a person that you're involved with, or even a situation that is opening your heart and just making you feel rejuvenated in some way. So that's really good to keep your focus on that and what to let go of at this time, what to let go of. 

Okay. The Wheel of Fortune in reverse. So yeah, so let go of, if you've been waiting for your ship to come in, feeling like you're waiting for a big shift, a big change to happen, and it's still stagnant. You have to let go of the urgency to have that happen. You have to surrender to what is, and you have to trust the process, and you have to be okay with things being a little bit slow right now because other things are probably working behind the scenes before this situation can shift and it will shift. Okay? Nothing ever stays exactly the same. So if you just kind of feel like you're really waiting for something to just really bloom finally, or something that just goes to that next level and it's frustrating and you're just really dying for that shift to happen, you have to just let it be. You don't want to rush this process. You just don't want to force it. You don't want to force it to change if it's not ready to change. And you have to surrender that and put your mind on other things that make you feel good. 

And then what to bring in and embrace. Oh wow, Queen of Cups. Yeah, so it's embracing the Ace of Cups, embracing the Queen of Cups. So around this New Moon time, it's really important to embrace what just makes your heart feel soft, good, and healed, especially with the Scorpio energy. It's a water sign, the Queen of Cups. This could be a Scorpio person in your life, or a Pisces. What's the other? Water sign? Cancer. This could be a water sign in your life, a person, a woman, or a feminine person whose energy's really healing and they have something really good to share with you or to say, or you enjoy being in their company. Or this could just be you, yourself tapping into your own ability to allow yourself to experience emotional healing, comfort, softness. So at this time, instead of pushing to force something to manifest before it's ready or to change to force a person or situation to change, if it's not ready to change to force a job to change, maybe you're really desperate to get out of the job you're in instead of forcing that right now, it's really important to embrace softness and to surrender and to just surrender into softness and into relaxing, and try and take your mind off of it and try and do things that bring you a lot of relaxed healing, soothing for your heart and happiness for your heart. This could be really simple things like petting a dog or going to a beautiful park, just taking it slow right now, just for a few days around this New Moon time, pull back, take it slow. Focus on the things that really feel soothing to your heart, and don't worry, things will change when they're ready to change. Okay? Take your hands off of it, get out of it. Turn off the tv, turn off the cell phones. Really protect your energy and really just try and take a step back and allow your energy to be really soft and really healed so that your heart can be really open. Okay? Don't worry so much about trying to control the uncontrollable right now. Just focus on feeling as kind of relaxed as you can right now as you're in the midst of this kind of energy that you're dealing with, so many of you are dealing with and wanting it to change so badly just to try and relax into the parts of it that do work. 

And unexpected insights, unexpected insights. No, not that one kind of surprise or unexpected. Okay? And a Page of Wands. So an unexpected insight. Somebody might get in contact with you or you might receive a message or an invitation to something that kind of gets the energy moving and gets you feeling joyous. Again, this could be a person that comes in that's kind of youthful, maybe a younger person or someone with just a lot of energy or a lot of silly, really funny energy. There's kind of a reason to laugh. And this can come from an unexpected source and it kind of can be something you want to pay attention to and follow that person or take that invitation or allow yourself this moment of total laughter and lightheartedness and levity. So this could be just some kind of younger or youthful, playful person or playful energy that might come as a surprise around this time, around this situation. And if you're dealing with someone in the situation you're in, they're trying to change. I think, embrace something that they have to say or listen to something that they have to say. If it is this kind of energy of a person that is very passionate about something, youthful and even playful, they might have something that could really offer a new insight into this situation. Some kind of message that they have for many of you will be important to get this situation flowing again in the way that you want it to really flow. All right? So that could come unexpectedly, and for many of you, I think it's going to be that something will work out unexpectedly with the situation that right now feels a little bit like it's not moving fast enough. I think something will come that actually will cause it to have a growth spurt. It'll move forward all of a sudden when you least expect it to move forward quite quickly. So it's almost like you're, you're going to be really thankful for some of you that you even had this time to slow down, because it might start moving so quickly that you won't even have this time that you have right now to take a beat and check in with your energy and your heart and just take things slow. Because for some of you, this situation is going to start when you least expect it. It's just going to start flying forward, and you won't really get a moment to take a breath. So that's what I'm getting about that. 

And then the outcome. The outcome, Ooh, King of Pentacles. Wow, that's great. Okay. So the outcome, if you're starting this time feeling like, gosh, I've really worked hard on this or put so much of my energy into this, and it's not like coming to fruition, wow. The outcome is the King of Pentacles, the ultimate card of the Pentacles, the ultimate manifestation of the Pentacles. So the King, I think what you're working on will come to fruition, possibly even close to this New Moon time. So something will, it will come into bloom, something that you have been working on. So it requires some patience, but it will, what you have, the seeds you have planted, what you have been working on, it will manifest and it will be made real for you. Okay? And you're going to feel that feeling of, "Oh gosh, wow, this was once just a thought I had in my mind that this is once something I worked on a little bit every day, or this was something I put so much energy into, and now it's actually my reality. It's a solid, stable reality that I can stand on." So that's a great message. That's a lovely message. All right, so with that being said, I hope you have a beautiful New Moon time, and I'm sending you all so much healing. Beautiful love. Okay, bye.