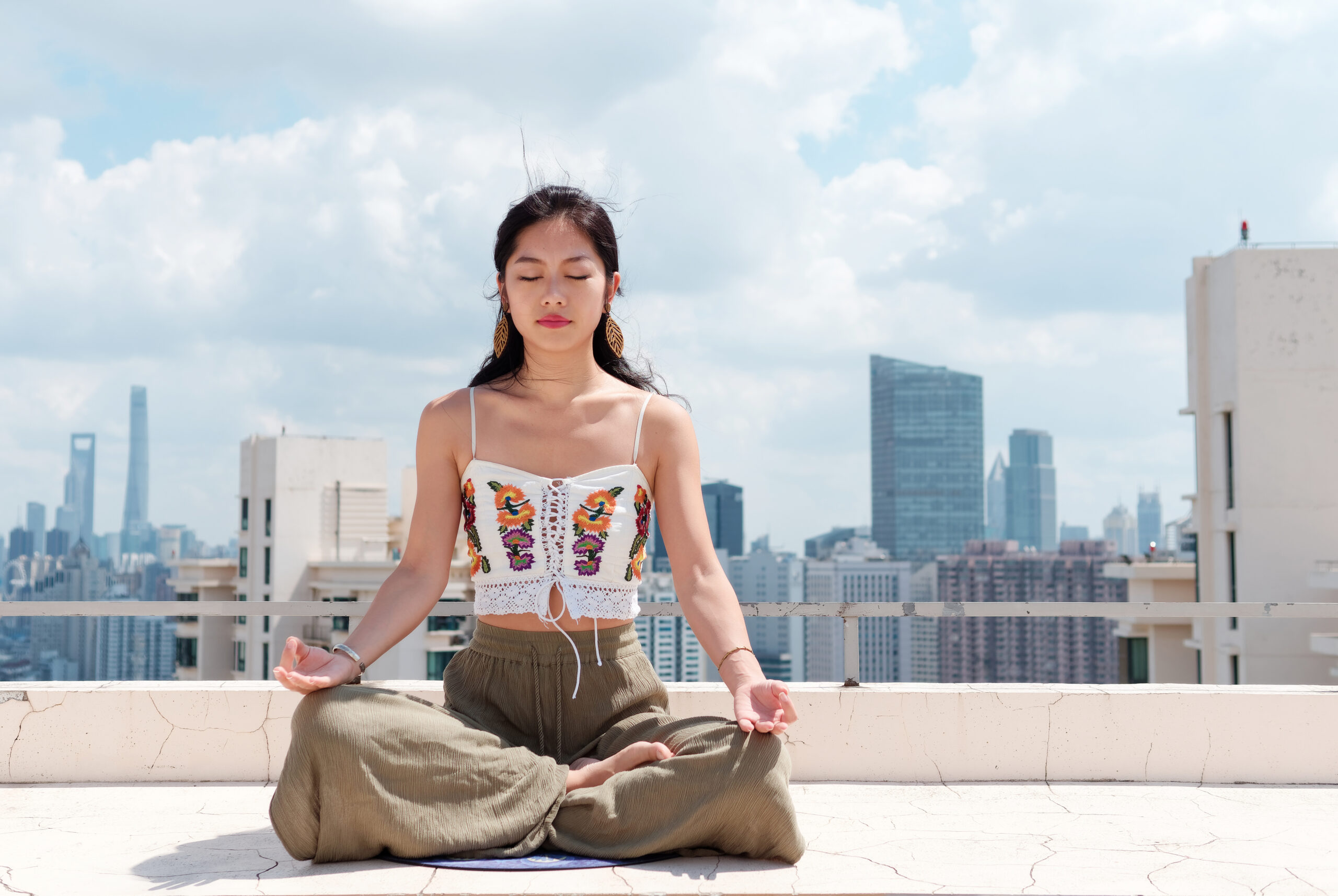 01 Jun

HOW TO STAY SANE IN AN INSANE WORLD | 5 HEALTHY WAYS TO SOOTHE YOUR SOUL

Hey there… 

Have you found yourself questioning your role in the world lately?

Have you been feeling a little disconnected from your community?

At the end of the day, when it's all said and done – do you sometimes feel lonely and exhausted?

These are completely normal reactions to living in an insane world!

You might feel like your spiritual strength is being tested right now.

When you feel swept up in the opinions of others, or bombarded by information from the media, it's easy to doubt yourself.

You might feel more alone than usual or want to hide away just to get some peace from the chaos.

Maybe you've noticed yourself feeling less open to other people…

feeling bored of social media streams…

and tired of any form of hate or division.

And maybe you feel like it's turned you into someone else.

Maybe someone quieter than you used to be.

Amongst all of this change, especially over the last year, it's easy to question your sanity and reach for quick fixes when you're feeling unsteady.

Maybe you had that extra glass of wine…

Maybe you binged your favourite Netflix show because working felt like too much effort…

Maybe you've been skipping exercise or have stopped doing the things that make you feel better.

However… that will only last for so long before it does more harm than good. 

But if you can learn to find the ground beneath your feet… 

if you can center yourself even when your environment feels chaotic… 

you become stronger for yourself and others.

In 2021, staying centered may be the most important skill you learn.  

It will keep you sane, no matter what life throws at you. 

So let's explore some simple ways you can center yourself every day, and stay calm amidst the chaos of life.

As simple as it sounds, spending time outside in nature is one of the most nourishing things you can do for yourself.

If you make regular time to connect to the natural world, you'll be amazed at how much calmer you feel.

I know it can feel like sometimes there simply isn't time in your week, but see if you can find ways to make it work for you.

Schedule a walk in the woods at lunchtime.

See if you can get to the ocean in the evening.

Find little excuses to get outside, like walking a neighbor's dog if you have to!

Or simply go out to your garden or park, take off your shoes, and feel the grass under your feet.

Even just 5 minutes can make a difference.

Whatever way you can find to surround yourself with trees and green spaces – do it.

Even if you live in a city, there's always somewhere you can go.

Just remember to breathe deeply and settle your mind. Meditate if you can while you're there too.

You'd be surprised by how much better you feel after a walk in the sunshine before you go on with your day.
# 2 Allow yourself to have a good cry
When was the last time you let yourself cry? Did you feel better afterwards? 
Most people try not to cry and hold it all in. 
Sometimes, they're afraid to be judged.
Other times, they're afraid they'll cry so much that they'll never stop.
But there's nothing to be scared about when it comes to your tears, and they are perfectly acceptable under the current circumstances.
It's safe to let yourself feel a little sadness, even if it's just for a moment.
Your body has this beautiful way of releasing your stress for you, so why not use it.
Sometimes a little cry is all you need to feel less overwhelmed.
# 3 Know Your Triggers Before They Happen
Everyone gets emotionally triggered for different reasons.
It could be something that was said, a situation that was unfair, or even just a simple conflict in beliefs. 
When you're triggered by someone else's words or actions, you might be left feeling hurt, disappointed, or on-edge.
Do you feel like you know what makes you feel triggered?
Or are you sometimes unaware until it's too late?
Don't worry if you have been feeling affected by other people or the media lately.
The good news is that you can do something about it.
You might like to spend some time thinking about or writing down what you find difficult to deal with at the moment.
It could be loud or ignorant people.
Maybe you're finding busy cities or large crowds just too much right now.
Or perhaps you're feeling a little isolated and you feel hurt when other people don't have enough time for you.
If you know what tends to upset you, you can be ready with a self-soothing practice (helping you avoid the quick fixes mentioned earlier).
For example, if you have to deal with a difficult person, remember to have boundaries with them and build some time into your day to decompress.
Or if you need to spend time in a busy place, make sure you schedule time in nature later so you can clear your head.
Knowing what you find hard can actually help you become more resilient.
You can start to develop strategies to help yourself stay centered.
# 4 Take good care of your body
Are you feeling tired right now?
Maybe a little low on self confidence?
Perhaps you don't feel like you're taking great care of yourself?
Your busiest times are actually the best times to show yourself some loving care.
When things are chaotic around you, it can make you feel disconnected from yourself.
When you're not feeling that comfy in your own skin, you're less inclined to want to take care of yourself.
Maybe you've been spending more time online…
or over-eating…
drinking alcohol…
or burying yourself in work.
All of these can be ways to escape the craziness.
But if you're kinder to your body, you'll be less likely to want to do those things in the first place.
So how about making a different choice and showing your body you care?
When was the last time you gave yourself a foot rub?
Or took a salt bath?
Or went to a relaxing yoga class with a friend?
Think of your body as a barometer.
When you're feeling good within it, you'll naturally feel stronger and more centered…
in tune with your intuition…
and able to deal with whatever life throws at you.
# 5 Write down how you are feeling
If you've never tried journaling, it can be a great way to process your feelings.
Kind of like a free form of therapy 😉
It's also a useful alternative to meditation if you're feeling too restless to sit still.
If it's all getting too much, how about sitting down with a cup of tea and letting your thoughts pour out onto the page?
Even if you end up ranting, it's much better that it comes out in your journal than onto the people closest to you 🙂
Some people can find journaling a little intimidating if they are not sure what to write.
But the idea here is to just let your pen do the writing.
Just breathe and allow whatever needs to surface to come through.
Maybe you're feeling angry about something.
It's also a great way to start noticing your triggers as mentioned above.
However you decide to use a journal, make sure it works for you and don't feel any pressure to write in a certain way.
If journaling is something you connect with, it won't be long before you notice how much headspace it has created for you.
Slowing Down Is The Secret Sauce
The key to staying sane is learning how to do things really slowly.
If you're taking things at a more relaxed pace, you're naturally more mindful.
Take one breath at a time.
Deal with one feeling at a time.
Face one problem at a time.
If you try to match the pace of the world right now you're less likely to find the solutions you need.
But if you move slowly whilst the rest of the world is spinning out of control, you will be able to stay balanced and keep course-correcting.
So, use this time to think about what slowing down and feeling more sane might look like for you.
I hope you find a practice that allows you to stay sane and helps you choose a path of healthy self-soothing.
Learning how to gently work with your energy and emotions will allow you to feel steady during these turbulent times. 
With love & courage,
Natalie Catherine
P.S. Have you found yourself affected by unrest and anxiety lately? How have you been dealing with those feelings? I'd love to hear from you in the comments below.
P.P.S. If you'd like to learn more about managing your energy, you can schedule a private energy reading with me here.