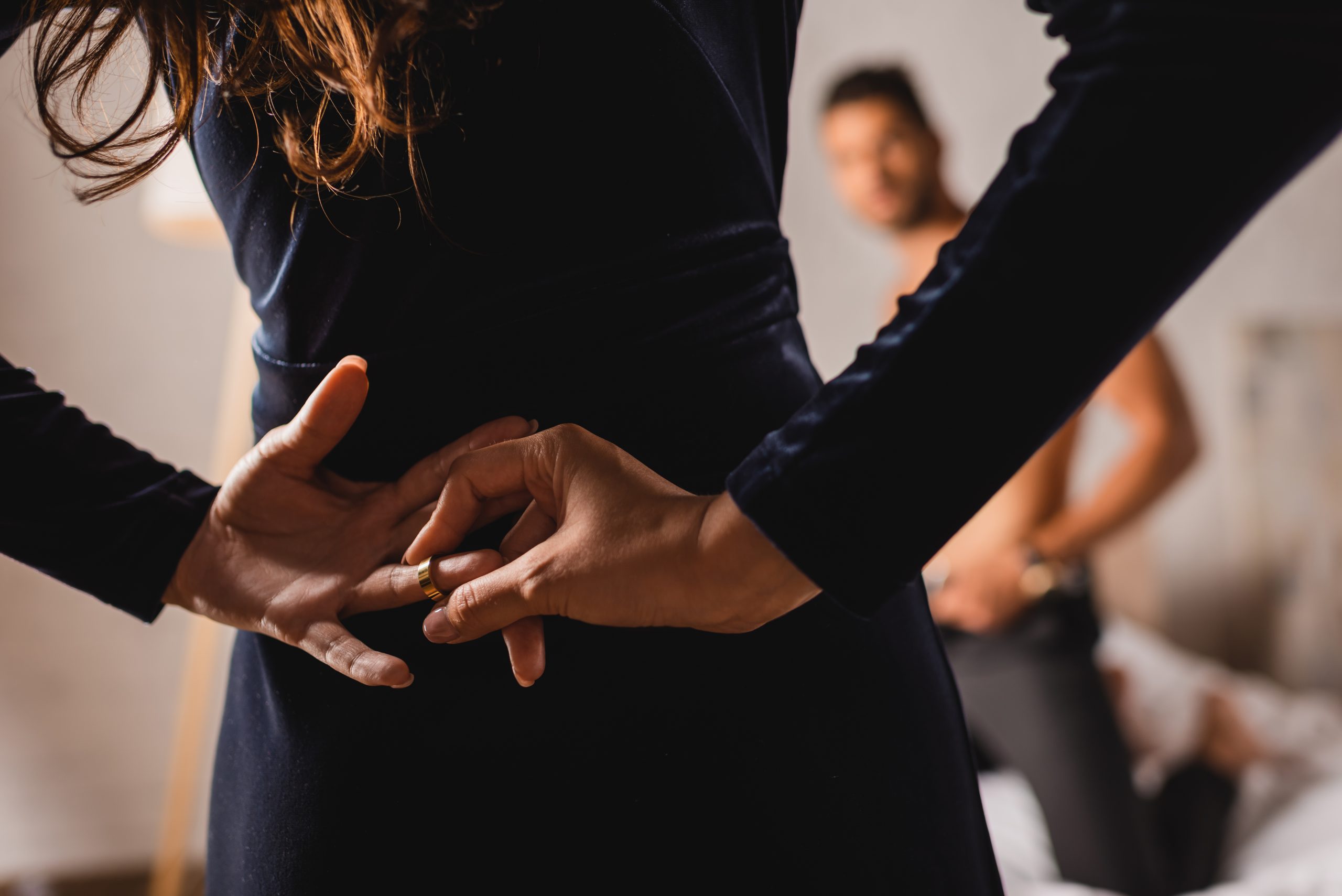 10 Dec

Is There Someone Else? | Weekend Tarot Love Reading | 12/10 – 12/12

Hello Love Tarot Friends, 

This is Jonathan with your Weekend Love Reading. 

Things could be feeling particularly prickly right now in your love life… 

Whether you're having a challenging time with your current partner, or feeling hopeless in your single life, the cards are affirming that the romance "stuff" is up, and not easy. 

It's even possible there is a sticky situation having to do with love triangles. 

Regardless, there is always something to be learned, and you'll pull through just fine in the final tally. 

There are some important points you'll take away from your reading, and you'll definitely want to heed the advice along the way to help you navigate these tumultuous times. 

So let's jump in and take a look. 
Card #1: Three Of Swords | Feeling The Feels
Are you feeling the pangs of a heartbreak, or are you on the edge of leaving someone? 
The Three of Swords is rarely anyone's favorite card to draw in a love reading… even if you're already aware of the tough times that are on the table. 
The Three of Swords represents heartbreak, sorrow, and grief. And while it may not be what you're hoping for, the truth is, this kind of loss can be a doorway into something very powerful. 
If you're single right now, the Three of Swords may indicate some old heartbreak or loss bubbling to the surface. These feelings can show up as a kind of sluggishness, hopelessness, or full on sobbing. 
Regardless of how it appears for you, give yourself room to "feel the feels" to your absolute core. On the other side, the sun will be shining, and you will have a better sense of why this heartbreak has lingered. 
On the other hand, if you are in a relationship, the Three of Swords does not bode well. You could be at the end of your wits with someone, or the tatters of what once was good may have finally begun to dissolve around you. 
The Three of Swords can also indicate a troublesome third party creating problems in a relationship. This could be a secret lover, an overbearing parent, or someone you willingly brought into your relationship that is now creating jealousy and chaos. 
If you happen to have a side lover, this is a sign the primary relationship cannot withstand the secrets or lies for long.
Lies create massive tension. Even if no one is the wiser on the surface, beneath the surface it's nearly impossible to hide something like this. 
Ultimately, the Three of Swords doesn't have to be the end of the world, or even the end of a relationship… It does, however – without a doubt – mean there is some real work to be done. 
Whether you are single or committed, the answer lies in getting to the truth of the matter… In your mind and with words, yes, but primarily through your body. 
Get to the heart of the matter by feeling deeply, talking it out with yourself or a trusted friend or a professional. No matter how uncomfortable it is, choosing clarity and honesty over confusion and hiding will set you back on the right course. 
You might find this is an experience that will shed invaluable light on who you are, and what you are wanting. Which is what your next card could be hinting towards.
Card #2: Page Of Pentacles | Learning About You
The Page of Pentacles symbolizes diligence, practicality, and loyalty… However, it may also be a sign of immaturity. 
This immaturity is highlighted in the card image where you can see that the Page doesn't have a firm grasp on the coin they hold. This can be a sign there is a lack of full commitment to a relationship. 
While the Page of Pentacles tends to be loyal, grounded, and dependable, they might also be slow moving… even to the point of boredom. 
So, it could be that you've grown tired of being with someone who can't fully get it together. While they have great potential, they might not be able to show up for you in the way you deserve at this time. 
If you're single, it's possible the Page of Pentacles is arriving to remind you to take it slow and to keep learning about yourself. 
Rather than getting distracted by the lack of a love life currently, do your work and tend to yourself, at least for the time being. 
There is so much to learn in life, and the more you get solid in yourself, the more likely you'll find someone down the road who can really rock your world in the best kind of way. 
It's not easy to move on while there is heartbreak in the air. So let yourself feel the loss, or experience the yearning for a deep romance. Then, get back to the good stuff you are creating for yourself in life. 
Alternatively, if you happen to be in a love triangle, as the Three of Swords may indicate, ask yourself if you are the loyal, diligent, grounded person represented by the Page of Pentacles… or if someone else is.
And, more importantly, if you're aware of a third person… you might want to get clear if you are down for this kind of ride or not. 
This is a moment to get really clear. Because as your next card indicates, there might be a lot of work involved if you want to keep things going. 
Card #3: Seven Of Pentacles | Cut Your Losses…
Has love felt like a long hard road, and you're still not seeing the results you want? 
The Seven of Pentacles is all about patience, growth, and hard work. There are two sides to this card. One points to hard won success, and the other points to expectations that are never met. 
In regards to love, the Seven of Pentacles can be a sign that something hasn't worked out the way you wanted it to. 
Whether it's the relationship you're currently in, or someone you've been pining for, it just hasn't turned into what you really want it to be. 
If you're in a relationship, it could feel like you've been working on getting things to move to the next level. But no matter what you do, it feels like you're never going to get there. 
It might not be anyone's fault… Rather, it could be that the connection just doesn't want to grow. 
That being said, all relationships take work. So you're going to have to really check in with your truest heart and make a decision…
On the one hand, you could be tending to the wrong garden for years to come. 
On the other hand, if you and your partner love each other, and have the grit it takes to work through these kinds of complex times, it's possible you could finally create what you've been wanting together. 
If you're single, the Seven of Pentacles is a sign it's just not going to happen yet. You might have a really great relationship on the way, but there is more work to be done for now. 
Particularly if you're pining for someone who hasn't noticed you yet, the Seven of Pentacles could be an indication to cut your losses… at least for now. 
If you consider your first two cards, what's likely most important at this moment is to get in touch with your feelings. 
If it's time to walk away, then make sure you're clear about it. If you're willing to keep putting in the work, then you're going to need to bring a strong dose of honesty both to yourself, and to anyone else involved. 
One way or another, you'll find your way.
There's Always Room To Learn
There might not be a lot of love in the air during this period, but that doesn't mean there isn't room to grow and learn. 
While your first card, the Three of Swords, could be a sign that things are falling apart in your love life, it's also possible this can be a powerful lesson that will open new doorways into knowing yourself and what you want. 
Your second card, the Page of Pentacles could indicate that someone you're with is moving a bit too slow for your liking, or they don't seem to be totally committed or ready for intimacy. 
That being said, the Page of Pentacles can also be a nudge to keep working on yourself. Which might be your best bet for now considering your final card, the Seven of Pentacles. 
Things are just moving slow at the moment. So if you're willing to proceed with what you have on the table, you might break through, but it's unlikely it will happen right away. 
And if you're waiting on someone, it's probably best to move on. At least for the time being. 
You never know what might happen next, but if you're willing to take each step as a learning process, it's guaranteed to get better in time. 
Keep up the good work, and give yourself a big dose of self love each and every day. 
With love,
And in service,  
Jonathan Lionheart
P.S. What's happening in your love life that needs to be felt, and maybe let go of? Are you ready for the next chapter in your romantic life? You can leave me a comment here on our blog, and let me know!  
P.P.S. If you'd like to get a full reading about your romantic future, or you could use some help letting go of what's getting in your way, you can schedule a private reading or Embodied Alchemy session with me here.