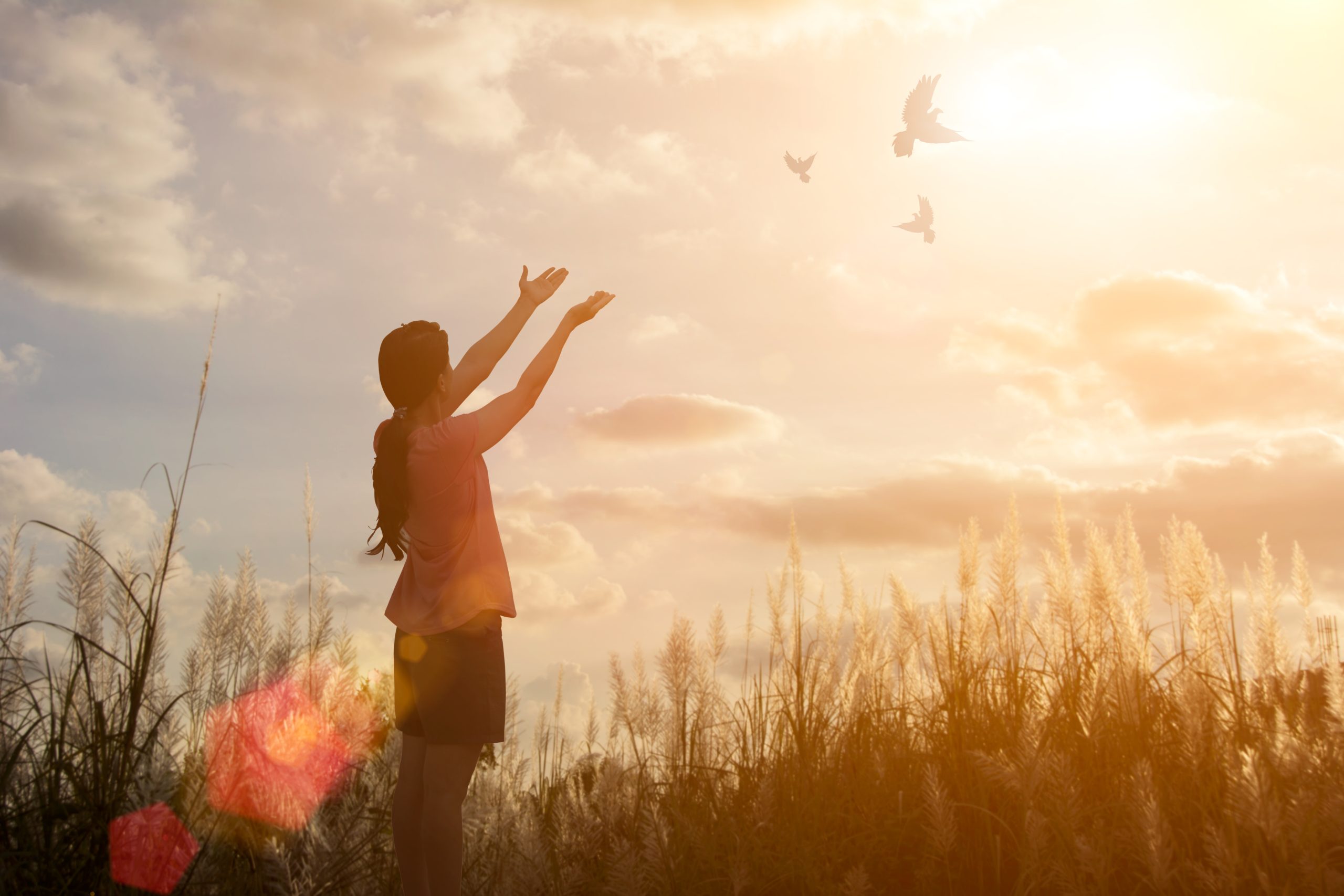 02 Feb

It's Time To Let Go | Weekend Love Tarot Reading | 2/3 – 2/5

A surge of renewal and fresh possibilities could be coming into your love life this weekend…

Karma says it will be important to release the past and any lingering heartache you may have so you can manifest a more fulfilling experience in love.

She's here to help you see the hidden forces at play right now, so you can clear the air and find true joy, here in her Weekend Tarot Reading. Enjoy!

P.S. Are you still processing a past relationship or getting over a romantic disappointment? Are you ready to make way for new love? Leave a comment below and let Karma know!
Hi, everyone, and welcome back to Cosmic and your Weekend Love Tarot Reading. I am Karma, and we're gonna go ahead and get started with my blessing and my prayer, and then we'll see what messages always spirit has for you.
Mother, Father, God, Divine Holy Spirit of the most high, thank you for allowing me to be a clear channel of receiving messages for the collective watching this reading in regard to their love life. I ask that these messages provide clarity, guidance, healing and understanding, as well as a higher knowledge and perception into what karmic cycles, soul lessons, and generational curses they may currently be going through, about to go through, need to become aware of, learn from, heal from, and release. Lord and all that you are and all that you do, and all that I am and all that I do. I live by your word and your word only. In Yeshua's name I pray, amen.
So I'm getting a vision right now, and we'll see if this goes in with the reading, but I have to share it. I'm getting the vision of two people now navigating how to compromise, or how to become one, to people learning how to properly work in a relationship and balance it out. So let's see what comes up here.
Wow, you have the Two of Cups in the Recent Past so something big has happened in the last week because that's definitely not where we left off. I mean we left off, what with the – I think it was the Wheel of Fortune, so things were moving in your way, so we have the Two of Cups here as the now Recent Past.
And the Empress came out too. I love this. So we have the Empress as your Current Energy. This is beautiful.
And in the Future. Wow, we have The Chariot, so something has picked up and is moving very beautifully for you. Wow, Knight of Cups on the bottom.
Okay, so you've Taurus, Libra, Cancer energy, also Scorpio energy here.
And then there is the Queen of Swords from last week's reading.
So there's a Knight of Cups, who I feel like is making their way towards you with an offer. They're a little bit nervous about bringing in this offer to you. Because they feel like they're… they might be walking straight towards the Queen of Swords here, okay.
But you also have the Eight of Wands, so there is some type of… it's coming in pretty quick, especially with The Chariot.
So let's take a look… Recent Past I have the Two of Cups. There is a soulmate union, there's a soulmate energy connection around you that we've been picking up on for the last few weeks.
This is two people wanting to come together, like I said. It's, like, figuring out how to make it work right. And it's interesting because I see The Chariot, which is the fastest moving card, but my instinct is to say that you guys are taking it day by day and doing this slow.
The chariot, I think, is just representing more like it's coming in quick. Somebody doesn't want to miss another day. So you have the Two of Cups, and I love this, so there's definitely someone around you that you are wanting to compromise, build and give to. Right?
Holy Spirit, please clarify the Two of Cups for the collective, please, and see Two of Cups here. The Tower, so interesting. I actually like this. I think this was a good thing. I think a lot of you may have come face-to-face with a soulmate or recently have had a tumultuous experience of break through, break down, and then through, that you're being aligned here with this Two of Cups energy.
I feel like this was something that you were not expecting, and it came out of the blue, and that would explain and kind of play off of last week's reading as well.
Okay, um, you may have had an epiphany or some type of transformational shift when it comes to a particular connection and what it really means to you and the depth of it and what you want to happen.
Alright, Current Energy is the Empress. You're in "go mode" and you're also in "grow mode." Go and grow. You're ready. I feel that you have fully stepped into your power.
And this Tower, there was some type of breakthrough that you went through this month or in January, forgive me. There was a life changing – Okay, a lot of you really allowed yourself to take back control of who you are and what you want. This is about building and creating and manifesting the life that you want. And you're starting to see it come to fruition. And it started with you becoming more focused on your intentions, and how your life is going to align.
For some of you, although this is a love reading, I do see a lot of you were stepping into your professional growth and power as well. Okay.
So let's see, here we have the Empress. Please clarify The Empress for the collective. The Empress here, Holy Spirit. The Hanged Man – this is something that took time. And we did see this in January. This is something that took time. It did take time.
Why did it take time? Because with the Hanged Man, there's really this element of enlightenment, which enlightenment always comes with also a breakthrough, a transformation, a shift, and a change. And I feel as though this did kind of come out of left field for you.
For some of you this could be a proposal coming your way. Okay. It's that we're at that level. For others of you, I feel it's just that meeting and that beginning in that understanding, and recognizing each other as a soulmate or recognizing each other as wanting to take this deeper and this is a person I want to invest in.
With this Empress energy, though currently in the Hanged Man, you still may be in a little bit of a pause, there still may be something that you're needing to wait for. Or you're waiting for all of the answers, you know. You don't have them yet.
It's a time of reflection and peace.
So anything that's rising to you, okay, anything that's rising to you right now, and what I mean by rising is any past traumas, any past thoughts, any fears, any anxieties, they're there for a reason. They're not for you to absorb and become. Instead, they're rising for you to address them, heal them, and release them. When you release them. That's where the breakthrough and the enlightenment comes in.
Yeah, this is something that's going to shock you. See, this is the breakthrough I'm talking about because this is on top of these cards.
So this is what's taking place that you may not see or haven't recognized recently, but your whole life is taking a full 180 happening right now.
All right, in the Outcome, you have The Chariot. Things are moving very, very fast. But what I like about The Chariot is this lets me know that someone has made a final decision and they now know. Okay? "I'm going in for the win. I'm going straight this way. I don't want to deter myself. I want to go towards this path. And this is what I'm wanting to accomplish. This is what I'm wanting to look at.
I never shuffle these, and Spirit just has me pick it up and want to start shuffling. So your bottom card was the Knight of Cups. But that was so out of character. So I know that wasn't me. So I have to shuffle to get this.
Alright Spirit, what are you trying to tell the collective here? Clarify, please, The Chariot. What are you trying to tell the collective here is going up? Would you believe that – the Nine of Cups, or Nine of Cups still ended on the bottom? So what's this about? This Five of Cups?
So somebody really misses you. Somebody – this is, this is – okay, okay, Holy Spirit, how many minutes? Okay, we're good. So we might go a little bit over again. I know we did last week too. But sometimes these messages that's just what happens, especially with how that played out.
So with these top cards, these clarifiers, I'm seeing a different perception here of what's taking place. Somebody has received a major enlightenment, through a heartbreak or an ending, possibly you have been with this person before. And this is a past person. Now this isn't going to be for everyone because Spirit is showing me the pizza pie again, cut in half. So for some of you, this is going to be someone from your past who has recognized this connection and there is pain in you not being around and they've experienced enlightenment. They're coming towards you. They miss you. Okay, see the Two of Cups is behind this person. Right?
Okay, now for others of you, you've gone through hell and back. We all have, not just others. That's the whole pie. But what I'm seeing is how this is going to play out for some of you now. Is this really about you? Experiencing that break through, through the pain and making a decision to not live there anymore, and making the decision to align yourself with joy and your highest good, and that's calling in this Two of Cups.
There is a connection here that's on its way for some of you. You're already experiencing this, and you're already in your power. So I'm gonna say it again. And I believe I may have said this during this reading, or maybe it was a couple of weeks ago. But when you're in a divine relationship, when you're a divine being, and when you're working on yourself spiritually, and you're trying to heal yourself, you have to understand, you are now a target for the darkness, for the dark agenda, however you want to call it or perceive it. You're a target. So expecting difficulty in making decisions and letting go of cycles, traumas, past patterns, and past relationships can be expected to be painful and difficult for you and hard. Because you're moving at a faster rate than anyone else, and the darkness doesn't want you to.
There's an element here of something trying to keep you stuck and trapped to the past. That's why God is coming in with this Tower and The Hanged Man. There's a universal shift taking place. Something has to be shaken up for you to be able to see from the inside out. All right?
Once you see from the inside out, your light then shines, and that's what calls in this Two of Cups and the Empress.
Great, great new beginnings are coming your way, Collective, things that you've really been manifesting and calling to yourself. I do feel like there may be still a little bit of a battle in your mind. Over certain emotions.
You just need to try to stay on point, but I do see really positive movement, but Spirit did just say something to me. I don't know who this is for: Do not regret any past decisions that you've ever made. Don't regret any of them. Don't regret any choices you've made in the past. They brought you to where you are. Everything is connected, and everything happened the way it was supposed to happen. Release it so that your blessing can come in. Bye.