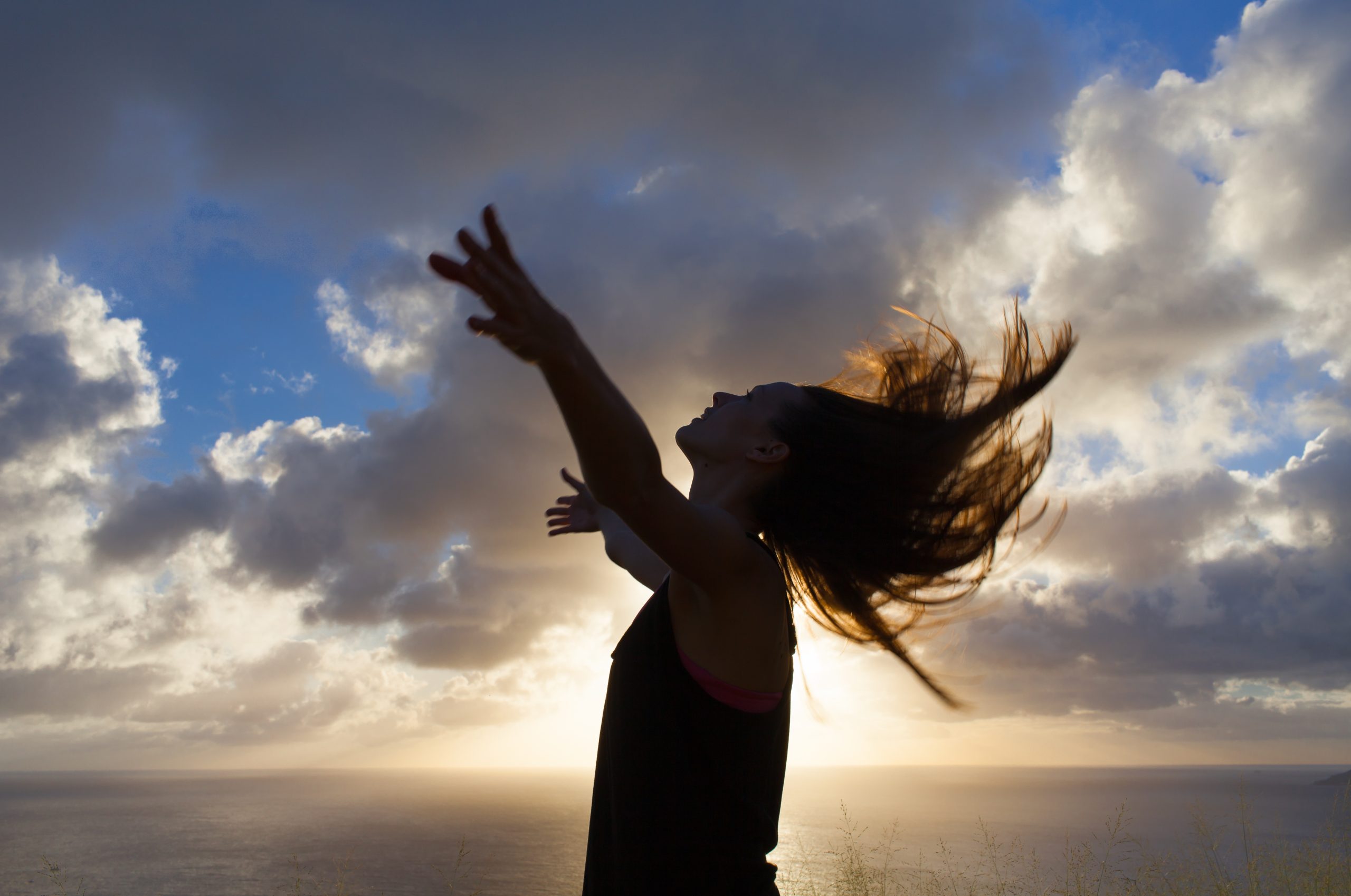 11 Feb

Just Go For It | Weekend Love Reading | 2/11-2/13

Hello Tarot Love Birds,

With Valentine's day on Monday, this weekend love reading could be exactly the kind of shake up you need before the big day of love.

Transformation is definitely in the air.

Whether that means the relationship you're in is going to deepen exponentially, or if the person you'll be canoodling with this year is really who you thought it would be. Things are shifting and changing.

One way or the other, the love energy surrounding the weekend is asking you to be bold, courageous, and willing to grow in all kinds of yummy ways.

Let's take a look.
Card #1: Death | This Ain't Working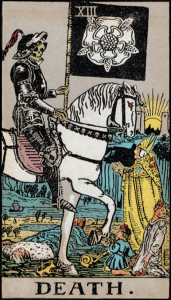 The Death card represents the ending of a cycle, transformations, and changes in your romantic life. Whether this means the end of a current relationship, or the end of an unhealthy pattern within a relationship. It all depends on your situation.
When the Death card shows up in a love reading, it's a sign there is an inevitable transformation that will happen, one way or another.
If you're in a relationship where the dynamic hasn't been working for a while, this is a sign that it's time to face the music. Either the relationship needs to change for the better, or it needs to come to an end.
This is the kind of cold finality that can come with the Death card. Of course, on the other side of death, just like on the other side of winter, there is room for new life to take root and bloom.
So it's important to ask yourself if your current relationship can survive a powerful transformation, or if the transformation indicated here is about a separation.
Alternatively, if you are single right now, the Death card can be a very positive sign. You might ask yourself what beliefs about love, or negative beliefs about yourself are ready to be let go of.
Is there an old relationship you've allowed to linger in your memories that is ready to be mulched and set to compost?
Sometimes we don't realize we've been carrying something along with us, because the feelings of extra heaviness and feeling extra closed off starts to become normal.
But when the time comes – which could be now – to let another layer go, what emerges could surprise you.
The death of something old always creates room for something new. And the old can feel ridgid, tough, and lifeless. But what's beneath might feel a lot more alive and soft.
Your next card is indicating that a deep sense of compassion, nurturance, and warmth is headed your way.
Card #2: Queen Of Cups | Compassionate Advice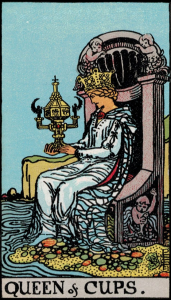 The Queen of Cups symbolizes kindness, sensitivity, and a warm, nurturing type of person. In a love reading, the Queen of Cups could be a sign of meeting someone with these caring qualities.
Or, it's possible you'll be getting in touch with your own nurturing nature. In which case, this may be the way you start attracting new people into your life.
If you're in a relationship, the Queen of Cups can be a sign that the intimacy and warmth is about to get even closer between you and your special someone.
So if your relationship is already going well, it's possible your previous card, the Death card, is a sign of a powerful and fruitful transformation towards more love and nurturance.
Something will break through into a deeper sense of commitment and closeness.
On the other hand, if you've been in a toxic love situation, it's time to bring the nurturing Queen of Cups to bear. Reach out to someone who will listen and support you to make good decisions.
Receiving warmth and kindness from someone could help remind you what respect and authentic care truly feel like. It's in this kind of safety that the right next move will be easiest to come by.
If you're single, the Queen of Cups can also be a sign of meeting someone with a deep and nurturing heart. So don't pass up someone with kind words and a warm heart to match.
Ultimately, you're either going to need to take a leap out of your relationship, or deeper into it, or maybe even into the arms of someone new. Your next card is here to encourage you to take that bold step.
Card #3: Strength | Courage Within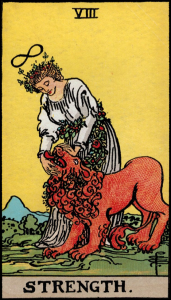 The Strength card is all about courage, inner power, and compassion. In a love reading, the Strength card can often be a sign of needing to keep one's integrity and to courageously go for what you want.
In order to follow your heart, it requires inner courage. If you already know what you want, or who you want, then this is a sign to go for it.
Don't wait another second, step forward and go for what you desire.
On the other hand, if you're already in a relationship, the Strength card can be a sign of fiery passion and maybe even some anger in your relationship.
On the positive side of the spectrum, the Strength card in romance has a tender, passion-filled and caring relationship. This is the kind of bond that only grows stronger through time.
On the negative side, it can be a relationship that borders on being toxic. One moment you're making love, the next you're fighting endlessly.
The Strength card can also symbolize your inner integrity.
If we consider your first two cards, it's possible you could be either leaving a relationship, or leaving a nasty pattern behind once and for all.
In either case, the Strength card is indicating you'll have the inner conviction and courage to do what you have to do in the coming days.
So trust yourself, and listen to your heart and your instincts.
When something comes to an end, as your first card Death indicates, there can be both a sense of loss and a sense of celebration. You can never quite tell what's on the other side of the end of something.
But in this case, your second card, the Queen of Cups is a good omen. She represents kindness, warmth, and support in the emotional realm. So if you're letting go of something that's been important, you can bet there are good things to come on the other side.
You might also reach out to someone who has the nurturing qualities of the Queen of Cups, because your final card, Strength, is a sign you'll be needing some deep inner courage to continue on your path.
Whether your relationship is transforming into a deeper version of itself, or you are moving on to situations that better suit you, change is in the air. And it is powerful.
With love,
And in service,
Jonathan Lionheart
P.S. What is transforming in your love life at this time? You can leave me a comment here on our blog and let me know!
P.P.S.P.P.S. If you'd like to look into your romantic life, or take a look at future prospects, you can schedule a private reading with me here.