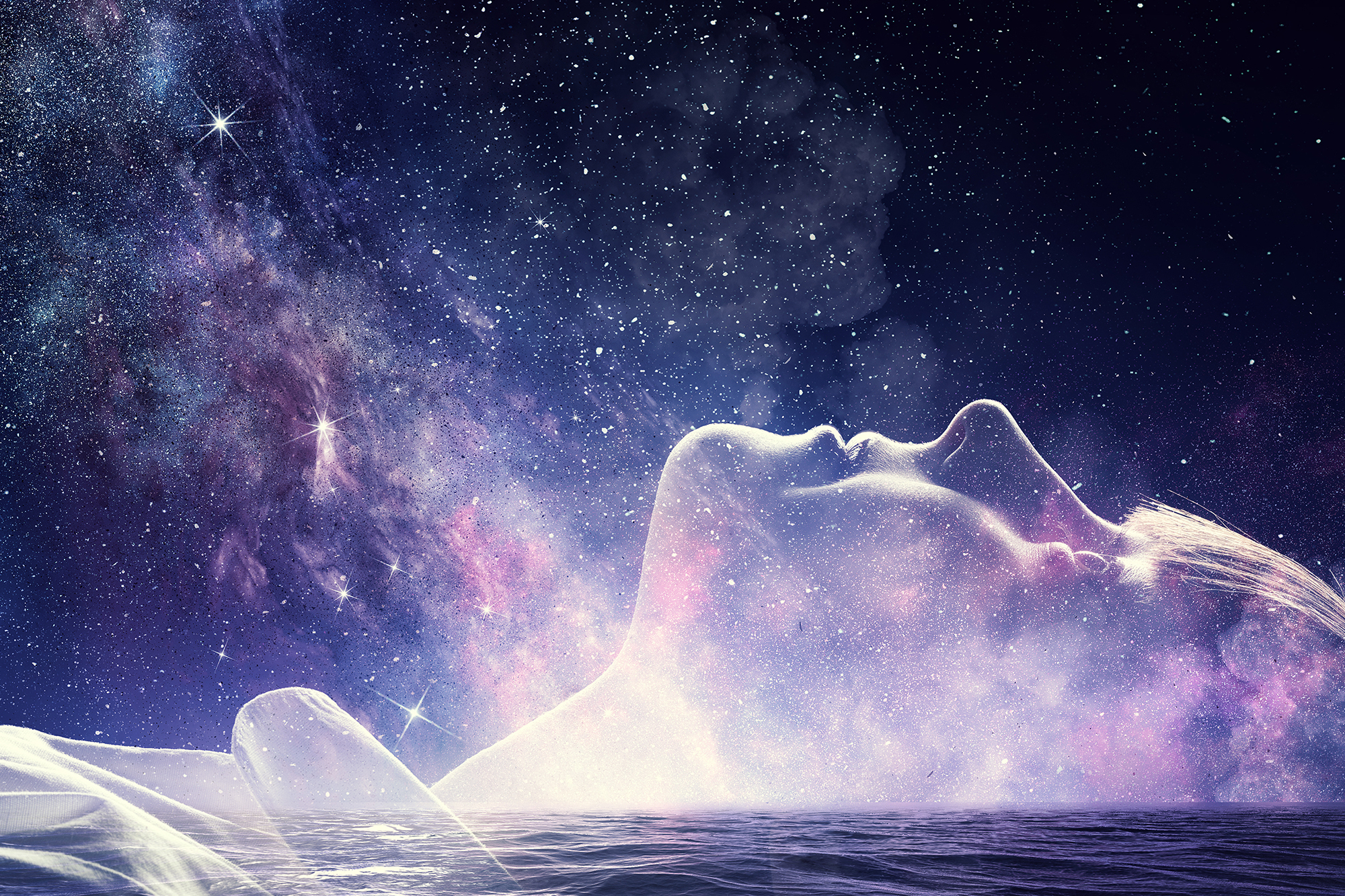 15 Aug

Your Subconscious Has A Warning For You | Weekly Tarot Reading | 8/15 – 8/21

Hello Tarot Friends, 

Oh boy… the week ahead could be a real rollercoaster of confusion and emotional complexity. 

There is something in your unconscious that will no longer be ignored… an inner looming issue that wants your attention. And won't stop until it gets it. 

Luckily, if you're willing to ride the wave and listen closely, you might come out the other side with a life-changing revelation. 

The storm that comes before a fundamental life change can be a doozy. So pay close attention as we look at how to navigate the obstacle course ahead of you. 
Card #1: Eight Of Swords | Cutting Through Illusion
Has something recently and endlessly been running through your mind? Or have you felt particularly trapped in your current circumstances? 
The Eight of Swords symbolizes hopelessness, imprisonment, and victimization, and can be a sign that you've been running away from something you just can't seem to escape. 
The woman in the card's image has turned her back on the castle in the distant background. A fortress that was once her home. She has traveled from one place to the next looking for a solution to her problems, only to find herself once again surrounded by them.
The eight swords circling her represent the problems she can't seem to escape.
She is blindfolded and tied up, which makes her predicament appear almost ritualistic… as if she is being sacrificed to the fears and challenges that lie before her. 
However, while there are real issues on the table, most of the pain and struggle is only in her head. She can come to the other side of this conflict by seeing through the illusions.  
This card could be a sign that you've been doing your best to avoid something challenging. It might seem like life is giving you a hard time, and nothing you do seems to make it better. While this could be the case, the truth is that beneath the surface the real issue might be you are avoiding something that needs to be taken care of.  
Whether you are avoiding scary, unresolved feelings, or a mistake of some kind that is still haunting you, at this point there is no way to sidestep it any longer. 
It's time to face the music. 
Whatever it is that has you spinning and spinning, you won't be able to figure it out in your head. At least not initially. 
The first thing you can do to help untangle these circumstances could be to turn and face what you've been running from.
While the woman in the image seems to be trapped and imprisoned by the swords surrounding her, the truth is she can easily free herself, if she removes her blindfold and sees the gaps to escape through. 
This is a sign it's time to take a clear and sober look at the thoughts that may be haunting you. 
First thing's first: find some time to sit still for a while and settle. 
Choose a location and time where you won't be disturbed. Sit down in a comfortable but alert position… and JUST SIT. 
If you're experiencing the turbulence of the Eight of Swords, this won't be easy. You'll start thinking about this or that problem. Your body will start to fidget, and you will feel uncomfortable and want to go do something else. 
Instead, sit, breathe, and settle into yourself. 
If it's helpful, use a candle to focus on, or light some incense and watch it slowly burn. 
Whatever you do, sit through some of the discomfort until your body and mind begin to relax. This could take some time, but it's totally worth it. 
Once you've sat for a good long while, it's time to write, express yourself, or pray. 
Write spontaneously, and don't stop. Write down everything that comes to you about your situation, about yourself, about whoever and whatever pops up. Don't censor yourself. 
Do this for at least 10 minutes, non-stop. 
Now, take a moment and write down the thoughts that are consistently running through your head. What stories about yourself, or about life in general, are you believing and reinforcing by repeatedly and compulsively focusing on them? 
They could be self-defeating thoughts like, "Nothing ever works out for me," or "I don't deserve to be loved or to be successful." 
These are just examples, but take some time to peer into the script that you habitually run in your mind. What do these thoughts feel like? How do they make you see yourself and your life? 
This is an important exercise, because the Eight of Swords is representative of the symptoms which could lead to the cause beneath the surface. The deeper cause, which could be creating all this trouble, is represented by your next card. 
Card #2: The Moon | Mending The Shadow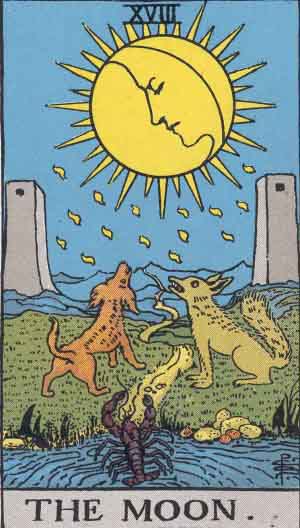 The Moon represents intuition, illusions, and the unconscious realm. When The Moon is drawn, it is a sign you could be dealing with aspects of your shadow, and a period of confusion. 
Luckily, It's not all bad. 
While The Moon often symbolizes your shadow aspects, it's important to remember that the shadow is not always negative. In fact, the shadow merely describes parts of ourselves that exist below our conscious awareness. 
These can be special gifts as well as weaknesses. And either way, the more these unconscious parts are brought to the surface and seen, the more whole we become. 
However, this is never simple or easy work. 
The unconscious speaks to us through dreams, images, and the murky realm of feelings. So don't be surprised if your dream life sparks up this week, taking you on prophetic and wild adventures during the night.
This is a great week to start a dream journal, and to ask for guidance before you go to sleep.  
When The Moon arrives in a reading, expect your experiences to feel out of the ordinary, and not necessarily what they initially appear to be. 
This is an important time to ask yourself, "Is this true? Do I actually know what's happening in this situation, or am I letting my imagination run away with me?" 
The great psychoanalyst Carl Jung believed that the shadow side of intuition was paranoia. So if you are a particularly intuitive person, it's important to remember that when the going gets rough, or you feel out of balance, it can be easy to put together patterns and beliefs that may not actually be valid. 
And this can cause real trouble, because you could make up a very toxic story and it could feel accurate, even if you're a million miles off the mark. 
So take your time this week. It's not a good period to make impulsive decisions, get into unnecessary arguments, or try to plan out your next big steps in life. 
Rather, what will be most helpful during this time will be to find creative outlets to express your emotions, and tap into the communication coming from the deep, soulful unconscious realm. 
If exercise is your way, get at it. If it's music, or dance, dive in deep and let yourself move. Painter's get to painting, and writers get to writing. Whatever you do, give yourself full permission to express yourself in whatever way is calling for expression. 
Don't be afraid to go dark, or tragic, fearful, or terrifyingly angry. Give voice to these emotions in a safe way, and let them lead you.
Be sure to create a container for this expression by holding a time limit and perhaps lighting some sage at both the start and finish. This way, when you complete the process, you can return to the world without bringing those wild emotions into the wrong situations. 
Using your expression, and learning to relate to the deeper unconscious parts of yourself, is how you will undo the uncertainty described in your next card.
Card #3: Two Of Swords | A Powerful Choice
The Two of Swords symbolizes denial, crossroads, and can be a sign of a stalemate, internally or externally. 
Part of the reason you may be feeling stuck, or as if nothing can move forward, is because you might be willfully avoiding a decision that needs to be made. 
This could be a decision about letting go and moving on from someone or something that has brought nothing but resistance and tension into your life. 
It may also be a sign that a painful situation from the past is blurring your current circumstances, blocking you from making a decision.
As you can see in the card image, the woman sits in front of a large body of water, blindfolded, and with two swords crossing over her heart. 
There are rocks cropping out from the water behind her, which tells us there are hidden answers in the unconscious and beneath your emotions. 
The blindfold is a sign you are unwilling to face the facts before you. However, it's also a helpful clue to feel inwards, rather than search for your answers in the outer world. 
One way or another, a decision needs to be made. 
Unfortunately, it won't necessarily be easy to pinpoint what the decision is even concerning. At least not until you are willing to experience and explore the depths of your feelings. 
Once again, this is not a time to be brash, or to make big moves. Instead, be a detective and a skeptic. 
Explore what you are feeling and thinking honestly and with sincerity. But take each clue you find gently, and give it enough room that you don't become overly attached to it. 
If you can become curious about what's happening in your emotions and in your life, you'll begin to find answers that will lead you to the next positive steps to take. 
Stay patient. You're on your way. 
You are in an important moment, where being an inner detective – searching for clues and listening to the depths of yourself – will be most helpful. 
Your first card, the Eight of Cups, is a strong reminder to stop running. There is something deep within you calling for you to pay attention to it. You won't find the peace you are looking for right now in the outer world. 
Instead, you'll need to go inwards. The Moon represents the symbolic "dark cave" we all must face. The good news is, within the cave – even though it can be frightening – there also exists a brilliant chest of gold, which is the power of your true self. 
No one gets to skip the work of meeting their shadow, unless they'd prefer not to grow. Your final card is a call to make a choice. Even if you don't know what that choice is just yet, the Two of Swords is beckoning you to enter into a conversation with yourself that could change your life forever. 
Are you willing to face this challenge? 
I believe in you! 
And while this isn't an easy reading, you'll come out the other side with more self awareness and fortitude. 
With love,
And in service, 
Jonathan Lionheart
P.S. What have you been running from? What is your creative outlet when things get confusing or challenging? You can leave me a comment here on our blog, and let me know!  
P.P.S. If you could use some extra guidance or support in navigating the challenges of life, or with integrating your shadow, you can schedule a private reading, or coaching session with me here.