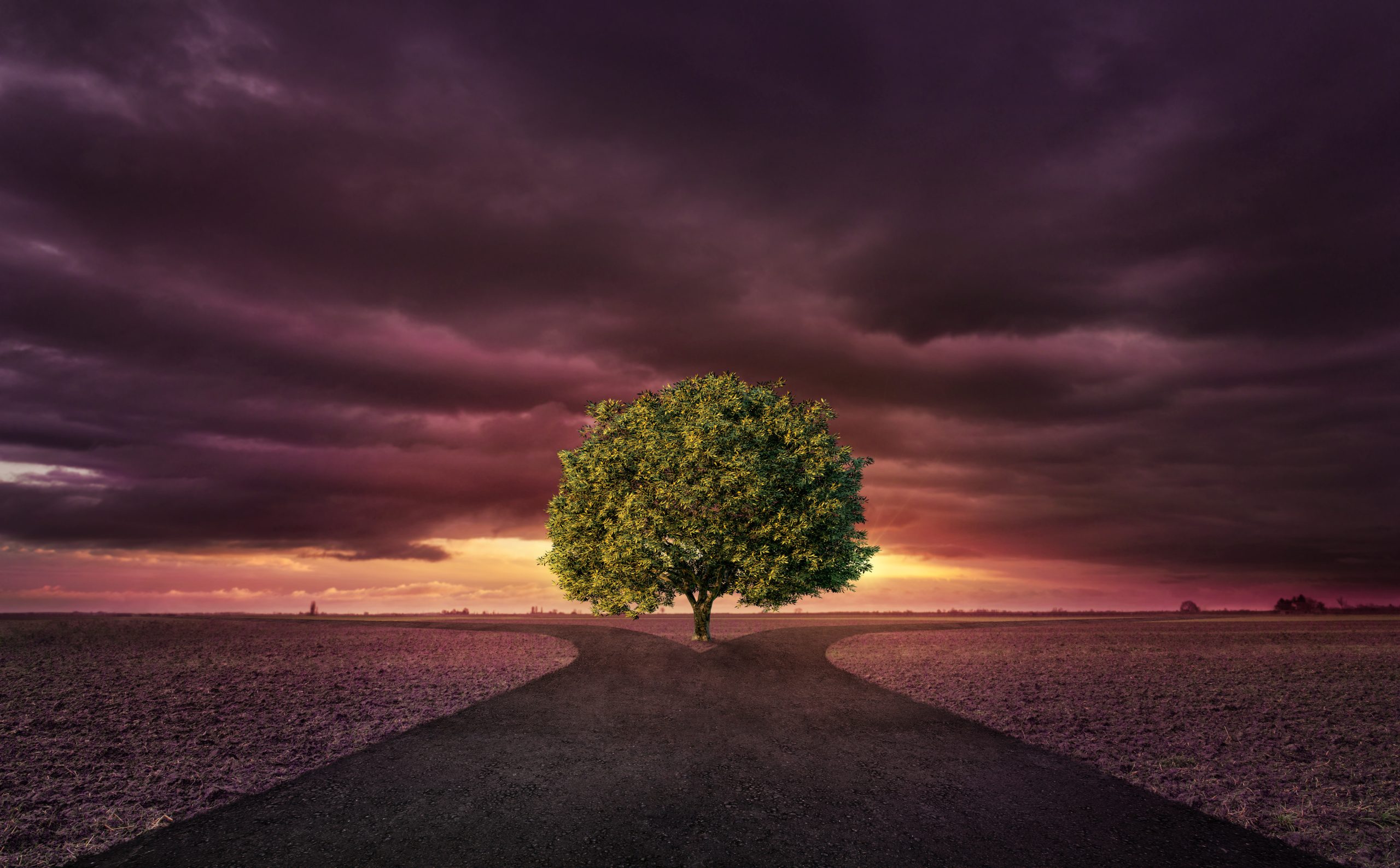 19 Jan

You're At A Crossroads | Weekend Love Tarot Reading | 1/20 – 1/22

Does it feel like you're stuck on hold in your love life?

Karma says you might still be processing a situation from the past, but things are moving forward slowly and surely.

She's here to help you gain a bigger perspective on what's happening for you romantically, so you can breathe a sigh of relief, here in her Weekend Tarot Reading. Enjoy!

P.S. Is there someone from your past you're having trouble letting go of? Is your heart feeling a bit guarded at the thought of opening to love? Leave a comment below and let Karma know!
Hi, Cosmic Family! And welcome back to your Weekend Tarot Love Reading. I am Karma, and I hope that you all have had a wonderful week. Let's go ahead and jump right into it with my blessing and prayer and see what energy is surrounding your love connection this weekend.
Mother, Father, God, Divine Holy Spirits of the most high, thank you for allowing me to be a clear channel of receiving messages for the collective watching this in regard to their current love connection. I ask that these messages provide clarity, guidance, healing, and understanding, as well as a higher knowledge and perception into what karmic cycles, soul lessons, and generational curses they may currently be dealing with, about to deal with, need to become aware of, learn from, grow from, and release. Lord, and all that you are, and all that you do, and all that I am and all that I do, I live by your word and your word only. In Yashua, his name I pray, amen.
All right, let's take a look and see what we have. Your first card out is Strength card. All right, this is strong Leo energy here showing up in The Past. All right, your next card you have – Wow! – two major arcanas: you have The Lovers. All right, Gemini energy here. And the last card out is the Knight of Pentacles. Wow. Interesting. Interesting. A lot of focus on your solar plexus chakra, okay, this weekend. Yeah, you're becoming enlightened too. You have the Hanged Man on the bottom. Interesting, because I love how the yellow – a lot of yellow, a lot of yellow. The Hanged Man, The chariot, The fool, all on the bottom of the deck here
Something is coming to fruition, something that you've thought long and hard on and prayed about. I feel it's all finally coming together.
Okay, so I'm connecting here with a collective that is aware that they've been working on something or dreaming or manifesting for something to come together. Okay.
And in the Recent Past of Strength, something took a lot of courage from you. Like – and I don't just want to use the word "strength" because it's on the card. But it's like you went through something that really required you to step into your power and use the tools that you've been working so hard to obtain, okay.
I feel like you…in the past you may have recently been tested. When it comes to a love situation, you may have had to really kind of look things at face value and figure out: "What is the best choice? What is the best option for me?"
And it may have required you to handle something with much more grace and poise than you may have been used to using in the past, okay. So I do feel like a round of applause. Like. I'm seeing an audience in my mind, like, everyone applauding, so that's my way – or Spirit's way, I should say – of letting me know that this is something that is either validating with you or that you should be proud of.
You did accomplish something here in the past, when it came to how you responded to a situation. I feel like you just wanted to find the best resolution for everyone involved.
Alright, clarify please the Strength card for the Recent Past for the collective. Yeah, Eight of Cups, you may have had to walk away from, detach, and let go of certain situations that I don't feel like you really wanted to let go of, but you recognize that maybe they didn't have the best space for you at this time.
This is also talking to me, though, about a deep moment of clarity – enlightenment with the Hanged Man. There was something missing from within, and I feel like it shifted and you were able to see where you needed to fill a gap within yourself to create a more solid picture of where you're going. Does that make sense to you?
So it took a lot of strength and a lot of courage for you to walk away from something. The interesting thing is, though, Collective…I'm really getting that even though you needed the strength to walk away from something, you knew that by walking away from something that you were walking into something because the Eight of Cups faces The Lovers when I have it on the table.
So you left something to go towards something that would be more fulfilling, more aligned to what it is you want in your life. And that's okay.
Current Energy is The Lovers. So now here you are: You're at the crossroads. You may be in communication with someone. For some of you, there may be back and forth communication, and you needing to come to a decision about this union, this commitment, this relationship.
There is a soulmate that is in your presence, right? Or else we wouldn't have The Lovers card.
I do feel like for a lot of you, love seems to be a focus right now. It seems to be what you're dealing with. Life situations with the most right, most of your situations, most of your learning lessons right now are coming through a loving, intimate connection…is how this is coming through for me.
There is something here that seems to be ordained by Spirit to come into your life, which is why I feel like we're seeing a soulmate.
Some of you had a decision and a choice to make, which means you may have had two options here again, walking away from something and moving into something that's more aligned with you.
Let's see here. Clarify, please, Lovers. All right, interesting. You have the Four of Pentacles. So a struggle with releasing certain viewpoints or walking away…still kind of holding on to something in regards to love that may have been obstructing your view or your path forward here.
It has to do with abandonment wounds, because I have the four and the one. So Five of Pentacles. Here, you're dealing with lack.
Again, let's go back to the past, you had to fill a void. I think that you've accomplished that. And in this moment, in this current moment of your love life, there's a focus on yourself. Right? Maybe not so much on the outside, but I think that you're trying to shift something within yourself so that you're prepared and ready for what is to come. Because this is for a collective who's been – you've been actively doing the work here.
And so some of you are letting go of the idea in the hope that this love is coming for you, that there's going to be a shift for you simultaneously, that you're hoping for love.
Some of you are unable to let it go. Or a past one. Like, you can't let go of a past love that's gonna get in the way. Okay, so that's another message for some of you.
If that part didn't resonate with you, don't take it because I'm strongly…I'm seeing a pizza pie cut in half. So that's not for everyone that's listening.
Knight of Pentacles is coming towards you. I think this is beautiful. You are at – you are intuitively aware that an offer is on its way to you.
A long term, stable commitment is on its way to you. It is moving very, very slow.
For a lot of you, this is someone from the past because they're coming in on a dark horse. They've been through things with you and they're wanting to come in now. And they're wanting to make it right, because there seems to be abandonment, ghosting, ignoring type of wounds between the two of you that you needed to heal individually and on your own.
However, for others of you, I do feel like this person who could be coming towards you as a new soulmate who has gone through something similar to what you have just come out of, what you are coming out of and emerging from, okay.
So, although there's this great energy around you, that's sitting on top and why we have the Hanged Man. So it's still patience.
A lot of you may not be seeing a lot of big changes in the physical realm in regards to your love life because it looks as though a lot of this is inner work right now that you're still pushing things out.
Again, you guys have been through the wringer last year. So the way that you are making decisions when it comes to love life is much more intentional. Okay, and that's why you think you're moving in slower steps.
So, as you move slower, in slower steps here physically, that's going to reflect spiritually as above, so below.
Alright, so let's see. Clarify please a Knight of Pentacles, Holy Spirit, for the collective: The Moon.
You don't see this coming. Well, and then the King of Cups was under… That could be a Pisces. It doesn't have to be, but you have The Moon here.
You might see this shift start to take place in Pisces season. Yeah, for a lot of you, your love life is going to change from Pisces to Leo season…is when you're going to see huge transformation.
So Pisces to Leo is February to August. You don't see this coming. And again, I want to say you feel it intuitively. You're going to feel it intuitively. There's still something deep emotionally that needs to be pulled out. That's why we have the Eight of Cups, the Four of Pentacles, and The Moon on top.
This is what's kind of, you know, holding your love life hostage here…Is the need to walk away from from this, this stuck energy with the Four of Pentacles keeping you stuck in one place or one mindset, one perception when it comes to how love should be or how a soulmate will present themselves to you.
There's a lot on your mind right now. And I feel like you're, you're struggling with making a decision.
We could still be piggybacking off of the reading from last week. You know, is this worth fighting for? We could be piggybacking off of that energy, that energy could still be present.
And now you've kind of transitioned more into, okay, into a sage type of energy, right? You're trying to receive wise counsel within yourself and with the Divine on how to move forward.
And the way to do that is to dig deep and allow yourself the space and the patience that you need for these answers to come to you. Okay.
I just see everything kind of being on hold right now. I don't think that you've made a full decision yet on what you want to do.
There is an offer on the table, though, for some of you. This offer will appear this weekend, for others of you, and I, but, but for all of you, I don't think you saw it coming. Whatever this person is about to reveal to you. It's been hidden, okay. It's been hidden, but they have something that they want to say. And I do feel like this has also taken a lot of courage.
All right, I'm sending you much love, Collective. Bye!